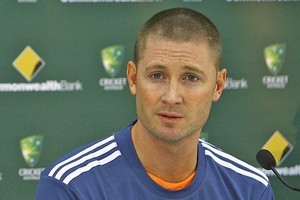 Michael Clarke has been named Australia's 43rd test cricket captain, replacing Ricky Ponting who stepped down Tuesday after a nine-year reign.
Clarke's appointment as test and one-day captain was announced at a news conference Wednesday along with the appointment of allrounder Shane Watson as vice-captain.
Cameron White will continue to captain the Australian Twenty20 team, with Watson as his deputy.
Cricket Australia chairman Jack Clarke said Michael Clarke had proven to be an excellent captain when standing in for Ponting, notably during Australia's recent 6-1 Commonwealth Bank Series win against England.
Clarke, 29, will first lead Australia on its tour to Bangladesh next month which comprises three one-day internationals. He will lead the test team for the first time when Australia tours Sri Lanka in August, though he stood in for the injured Ponting in the fifth Ashes test against England this summer.
"Michael has shown himself to be excellent with his on-field tactics when heading the national side," Jack Clarke said. "To captain your country is a great honor and responsibility and I congratulate Michael and wish him the best in what will be an exciting and challenging time."
Michael Clarke said he was looking forward to the opportunity to lead the Australian team.
"It is a great honor to be appointed captain of Australia, but at the same time, a great surprise as I wasn't expecting Ricky Ponting to stand down," he said.
"I have always respected those who have come before me in this role and humbled to think of my name being mentioned alongside theirs."
Ponting endorsed Clarke as his successor while announcing his retirement.
Clarke, a right-handed batsman who has played 69 tests, scoring 4742 runs at an average of 46.49, has been seen as Ponting's likely successor since cementing his place in the Australian team after it's 2006 Ashes whitewash of England.
He said he foresaw no problems with Ponting remaining in the test and one-day teams as a player and expected to take advice from his former captain.
"I think Bangladesh will be a great test for that to see how it all unfolds," Clarke told a news conference in Sydney. "I'm confident that if he can continue to play for as long as he has done, I'm sure it will work."
Watson, 29, said he was looking forward to the added responsibility and working closely with Clarke.
"Playing cricket for Australia has been a great honor for me and to now be appointed vice-captain is really exciting," Watson said. "I look forward to doing what I can to help and support Michael Clarke in the test and ODI teams, and Cameron White with the Twenty20 group.
"There are challenges ahead but also opportunity and I look forward to being part of the leadership group as we work together to grasp that opportunity."
The chairman of the Australian selection panel, Andrew Hilditch, paid tribute to Ponting while welcoming Clarke's appointment.
"Ricky has been an inspirational leader of men," Hilditch said. "He has led the side with skill, courage, passion, determination and integrity at all times.
"Michael (Clarke) has shown great leadership and tactical skills in the opportunities he has had to lead the side when Ricky has been injured or not available. The time is right now with Ricky stepping down for Michael to assume the leadership of the Australian cricket team."
Hildith also announced Australia's squad for the Bangladesh tour, which includes a warmup match on April 7 and ODIs against Bangladesh on April 9, 11 and 13. All matches will be played in the capital Dhaka.
Xavier Doherty returns as a specialist spinner after missing the World Cup because of injury while 20-year-old fast bowler James Pattinson has been named in place of Shaun Tait, who announced his retirement on Monday.
David Hussey was not available because of the imminent birth of his first child.
___
Australia squad: Michael Clarke (captain), Shane Watson (vice-captain), Xavier Doherty, Callum Ferguson, Brad Haddin, John Hastings, Mike Hussey, Mitchell Johnson, Brett Lee, Tim Paine, James Pattinson, Ricky Ponting, Steve Smith, Cameron White.
-AP