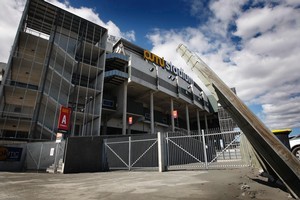 The Crusaders Super 15 team have today announced their remaining round-robin games for the season.

The team's home ground AMI Stadium was too severely damaged in last month's Christchurch earthquake to host games.
On Sunday, the Crusaders will play a historic match against the Sharks at Twickenham in London - the first time a Super Rugby match has been played outside SANZAR countries South Africa, Australia and New Zealand.
The schedule after is as follows:

9 April - Crusaders v Bulls - Alpine Energy Stadium, Timaru
23 April - Crusaders v Highlanders - Trafalgar Park, Nelson
21 May - Crusaders v Chiefs - McLean Park, Napier
11 June - Crusaders v Blues - Alpine Energy Stadium, Timaru
18 June - Crusaders v Hurricanes - Westpac Stadium, Wgtn
Crusaders Chief Executive Hamish Riach said: "We are happy to now give some clarity around the remaining home games for the Crusaders.
"It is great that the Crusaders match against the Sharks is being received so positively in London and back home, and that bodes well for the rest of our season.
"We head to Timaru twice, which is great news for us and all our Crusaders fans in that part of our community, and we're delighted to be going back to Nelson for the Easter round, after enjoying fantastic success and support of our matches against the Waratahs and Brumbies there.
"We saw the Hawkes Bay Rugby Union's offer to play one of our home games in Napier as a great fit for us. It allows us to play in front of the home crowd of a number of Crusaders, including Zac Guildford, Kahn Fotuali'i and Israel Dagg, while at the same time taking a bit of pressure off the relatively smaller communities in Nelson and Timaru.
"Playing the Hurricanes in Wellington feels like a really appropriate way to repay the wonderful support we got from the Hurricanes at the time of the abandoned round two game, and gives both Hurricanes and Crusaders fans in that part of New Zealand a chance to enjoy the next chapter in our hard-fought rivalr."
SANZAR CEO Greg Peters said the body supported the Crusaders' decisions around their home games for the remainder of the Super Rugby 2011 season.
"The Crusaders have been through several tough weeks since the devastating Christchurch quake and it has taken a big effort to relocate their home matches from the damaged AMI Stadium.
"We've been happy to support the Crusaders and to work closely with them on alternative home venues, both of us working to ensure matches take place with minimum disruption to either the Crusaders or the teams they will host between April and June," Peters said.
- NZ Herald staff