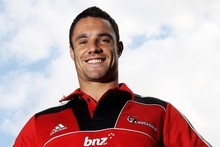 All Black first five-eighths Dan Carter has put all thoughts of a move to the Northern Hemisphere after the Rugby World Cup to the back of his mind in the wake of the Christchurch earthquake.
Carter, out of contract with the All Blacks at the end of the year, is being eyed by several clubs in Europe but has put all dealings on hold until the fallout from the disaster has subsided.
The 28-year-old had a spell at Perpignan in 2008 that was shortened by injury, and, according to Toulon president Mourad Boudjellal, is demanding €1.2 million ($2.3 million) a season.
Boudjellal says the price is putting clubs off but Carter, who had just finished training in Christchurch when the earthquake struck a month ago, is not rushing to make a decision.
"I was pretty lucky compared to what other people got. I dodged a bit of a bullet but nothing compares with what some people have gone through," said Carter, in London for Monday's Super 15 game against the Sharks at Twickenham.
"I have put things on hold a little bit. I am in no rush to make that decision.
I want to make sure everything is okay in my backyard first before making any sort of plans about where my future is after this year.
"I am out of contract and I want to explore all options over here and in Europe and also back home but with what has happened it has dragged things out a little bit because that is definitely not my main priority at the moment."
Monday's game, with an expected crowd of 55,000, will raise money for Christchurch but Carter insists it is also a game the Crusaders must win despite distractions back home.
"It is sad for us not to be able to play home games there and the news of the Rugby World Cup," he said. "In the back of my mind I was hoping it would be all right to have the games there but that is another blow for the people of Christchurch, who are rugby fanatics.
"But with all that has happened the motivation of the team is really high. It is a real motivation for the Crusaders now to be successful and achieve something that has never been done before. Do what we can to win a tournament without having any home games - I am not sure if any rugby team has ever achieved that before.
"It is something new for this Crusaders side to be over here at Twickenham but ... hopefully we can generate some money for people going through some pretty tough times.
"When an earthquake happens you can feel quite useless. You want to get back and help but I have found the best way of doing that is do what I do and love and that is play rugby. It gives people a chance to ... take their mind off what is going on back home."
- AFP