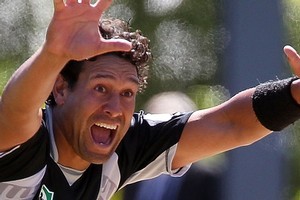 New Zealand pace bowler Hamish Bennett has been ruled out of cricket's World Cup and replaced by Daryl Tuffey. Tuffey joined the squad late last week as cover in case an official swap had to be made.
Bennett suffered an injury to his left ankle and Achilles tendon bowling during the loss to Sri Lanka in Mumbai on Friday. He bowled at a reasonable clip on the Saturday after the match in the nets but the injury was deemed too much of a liability for him to continue.
He limped off in his fourth World Cup match having bowled 4.1 overs. He took six wickets at the tournament at an average of 22, striking every once every 24.1 balls.
Tuffey has been playing for Auckland in the Plunket Shield. He has played 94 ODIs, claiming 110 wickets at 32.12.
He may not be needed. Kyle Mills looks set to return for the quarter-final against South Africa, along with skipper Daniel Vettori.
"Kyle Mills bowled well in the nets today so we have the situation under control," coach John Wright said.
"I'm not that frustrated. We can do it with any eleven. Dan will be fine. He'll be playing unless something unforeseen happens."
As of last night New Zealand were going to play the last eight match in Colombo if the West Indies beat India in Chennai or Dhaka if the opposite occurred.
Both potential wicket blocks have taken spin over the tournament, meaning left-arm orthodox Luke Woodcock may be considered for the quarter-final.
"We will have a look at the wicket," Wright said. "Luke's probably got a bigger chance [of being selected] than he has had in any other game at the tournament if it's a typical Dhaka wicket."
Wright indicated Scott Styris will move to bat at five for the match. That means James Franklin will either move down the order or drop out.
If Woodcock is preferred - and it still seems a long shot given he was not even tested against the likes of Canada in Vettori's absence - that could see Kane Williamson drop out, too. It means New Zealand would go into the match with three spinners, a tactic that worked well for Bangladesh when they beat New Zealand 4-0 on the Dhaka surface in October.