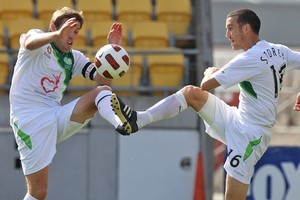 Support has quickly been offered to devastated North Queensland players as they face potentially months of unemployment after the Fury's A-League axing on Tuesday.
Professional Footballers Australia (PFA) CEO Brendan Schwab said the "heartbroken" Fury players had been addressed on Tuesday to help them deal with the uncertainty created by North Queensland's demise.
He admitted finding another A-League club would be a challenge with a total of 80 off-contract players seeking employment at the end of the season.
Schwab said many would have to look at Asia to play or face the prospect of a lengthy stint on the sidelines.
He believed "confusion" surrounding the A-League's future with a Football Federation Australia (FFA) review still pending had added to the problem.
"With the current confusion over the structure and timing of the A-League season, some clubs have delayed contract negotiations with players," Schwab said.
"This is forcing players to seek overseas employment, especially in Asia where the transfer window commonly remains open to March 31."
Schwab said the need for FFA to finalise their review was "now urgent".
"Football can be a precarious and uncertain career at the best of times ... (and) with the A-League being restructured, players are facing very complex transitions," he said.
"We are determined these do not have a lasting or negative impact on players' careers, and that some accountability is introduced for owners who spend beyond their means and are then unable to honour player contracts."
FFA boss Ben Buckley said on Tuesday that their review would be unveiled next week.
Schwab said the PFA were also pressing the FFA to complete its review of the A-League Collective Bargaining Agreement which they claimed was due to be completed on December 31.
Roar and former Fury defender Matt Smith felt for his former teammates.
Smith went through an agonising wait as the Fury's future hung in the balance ahead of the 2010-11 season, eventually cutting ties and linking with Brisbane Roar.
As he prepared for the Roar's grand final appearance on March 13, his heart went out to the Fury.
"That was the big thing from my own experience last year with the Fury," he said.
"It was very tough.
"I have a family and mortgage and things like that, and that uncertainty is terrible.
"You are asking so many questions day in and day out.
"I certainly feel for the boys.
"I think if it wasn't for the Fury I wouldn't be in the position I am in today - I would love to see the Fury stay."
- AAP