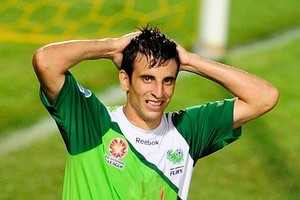 Football Federation Australia boss Ben Buckley today confirmed North Queensland Fury have been axed from the A-League after being deemed "too big of a financial risk".
Buckley flew into Townsville today with A-League boss Lyall Gorman to deliver the bad news to the Fury.
North Queensland - solely owned by the FFA - had been asked by Buckley to secure half of the club's predicted $A3 million ($NZ4.07 million) shortfall for the 2011-12 season to ensure their future.
Buckley said the Fury had secured less than $A300,000 of the required $A1.5m capital that would have earned them a one-year conditional licence from the FFA.
The axe fell despite the Fury claiming to have raised more than $A1m in sponsorship money and with a $A500,000-a-year sponsor announcement looming.
"Whilst the club and the advisory board had attracted some very encouraging sponsorship commitments, the projected loss to run the club next season is still in our assessment in excess of $2m," Buckley said.
"FFA had been looking for capital from the campaign to set the foundations for a move to local ownership and a long term future for the club.
"However with the capital-raising falling well short of the target, FFA has had to make the hard decision that it cannot continue to own and finance the club in these circumstances."
- AAP