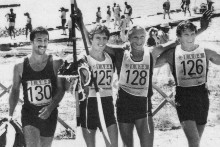 The coup against the board might be over but the politics continue as Canoe Racing New Zealand tries to comes to terms with troublesome trio and former Olympic greats Ian Ferguson, Paul MacDonald and Alan Thompson.
The two coaches, MacDonald and Ferguson, and the former board member lost their battle to overturn the board at last week's annual general meeting after months of bitter controversy following the axing of Ferguson and MacDonald last year.
While the vote was lost 5-7, Thompson said discussions after the meeting were almost as important, with board members and delegates wanting to speak to the disaffected canoeists. While the vote suggests that all three are well and truly on the outer now, the reality is that few want to see the back of them.
"We had a lot of people come and congratulate us on the isues we raised - but I think most were scared of losing [Sparc-funded] money and didn't want to be responsible for that. I can understand that."
The reality, too, is that CRNZ may not be entirely able to tear itself away from the golden trio.
Ferguson is coaching - with another rejected coach, Andras Szabo - the K2 crew of Steve Ferguson and Darryl Fitzgerald, the undoubted men's stars of the recent national championships and other regattas. Ferguson and Fitzgerald have been clocking world-class times and Thompson said those in the know were excited about the potential of the boat at the 2012 London Olympics.
"This is the most exciting boat we have seen out of this country for many years," said Thompson. "The K2 is a fickle boat; it's hard to get it firing right. You can get the best two athletes in the world in one - and it still won't click. These guys are getting it right."
The problem from a CRNZ perspective is that the pair are coached by Ferguson and Szabo - supposedly on the outer but also at the helm of one of the sport's most promising prospects. Thompson said the new athlete contracts from CRNZ provided for coaching from outside sources - but said such coaches had to pay their way to international regattas.
In women's paddling, Lisa Carrington, formerly closely associated with MacDonald, was the star of the national championships. She was performing strongly and could also form the basis of a fine K4 from which K1 and K2 paddlers could compete in other Olympic or world championship events.
So Ferguson, Sazbo and possibly even MacDonald - once his personal grievance against CRNZ is decided - could still be in evidence, even though the board coup failed.
"Most people wanted to know whether we would come on board now or whether we would still be lobbing grenades from outside," said Thompson, adding that all three had always wanted the best for the sport.
"I told them we'd want to see a sign; a bit of an act of faith that things were changing," he said.
One such sign was that the appointments panel could have a personnel change in their quest for coaches to replace MacDonald and Ferguson. Three of the panel - CEO Paula Kearns, outgoing high performance director Wayne Maher and Sparc's Byron Thomas - were the "original protagonists" whom Ferguson and MacDonald felt had been out to dispense with their services.
"It's not that we are trying to say they should put our people in or a person in there," said Thompson.
"It's about fairness, independence and transparency so the sport gets the best deal; rather than people who have already made their minds up."
By Paul Lewis

Email

Paul