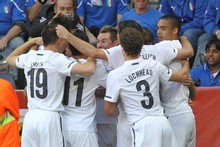 The All Whites' chances of qualifying for the 2014 World Cup in Brazil will largely be decided next weekend, even before they kick a ball.
Fifa's executive committee will meet in Zurich to decide the qualifying pathways for each confederation - which will have a huge bearing on New Zealand's chances of appearing at consecutive World Cups.
It's expected Oceania's pathway will remain the same - the confederation's top team would take on the fifth-placed Asian side in a home-and-away play-off -which would be a good outcome for New Zealand.
A return to a playoff with the fifth-best South American team would render the task virtually impossible. Australia managed it only once when they beat Uruguay to qualify for the 2006 World Cup.
But like much that goes on at Fifa, the decision will be down to politics. Last-minute deals can be done which could change the outlook - and Oceania are usually given the least consideration.
North America's Jack Warner, one of the most controversial and enduring executive committee members, is posturing for Concacaf (North, Central American and Caribbean football) to increase their representation. That would mean another confederation giving ground, which isn't likely to wash, but Warner is known to play a hard political game.
South America are reportedly happy to retain their current spots for 2014, on top of the one Brazil would receive automatically as hosts.
Africa would drop back to five (they had six last year because South Africa were hosts) and would have little basis to increase that number after five teams were tipped out at the group stages. Europe would retain 13 spots.
Asia are likely to be happy for the status quo to remain. Playing the Oceania winners is considered an easier task than taking on a country from another confederation - and it makes geographical sense for Asia and Oceania to be aligned and the Americas to play off.
It would then be up to Asia how they run their qualifying tournament. New Zealand Football, with the backing of Oceania, have asked for the Oceania winners to join Asia's final 10 to find the qualifiers.
A move to this format would mean New Zealand would have to finish in the top three of one of the sub-sections of five teams each to qualify for the World Cup. However, long term, such a move would provide more meaningful games for the All Whites more regularly and give the national side a greater presence in this country.
Asia, however, appear to have little appetite for this. Their teams would have to travel too farand New Zealand also holds little attraction in terms of commercial and television markets.
"The easier route would be the one-off playoff [with the fifth-placed Asian side]," NZF chairman Frank van Hattum said. "But it would be great to be involved in the final group of 10 with Asia. It would improve the development of our football to play top-notch opposition more regularly.
"In reality, we have very little say. We have made our feelings known to Asia through Oceania and, whenever we have had the chance, with members of the Fifa executive."
All Whites coach Ricki Herbert would prefer for the status quo to remain, saying it was already difficult enough to get through the fifth-best Asian side.
The All Whites played just eight games to qualify for South Africa and six of those were against relatively weak island opposition.
It was the least number of games of any team to qualify and, while many questioned their worthiness because of this, these complaints largely dissipated when New Zealand drew all three World Cup games.
Regardless of what is decided in Zurich next weekend, the All Whites are due to play their first qualifier on October 7 against an as yet unknown opponent from the Pacific Islands. They will be joined by three teams found from the Pacific Games to be held in New Caledonia in August and September.
NZF will also learn if their bid to host the 2015 Under-20 World Cup is successful. Wales, Peru and Tunisia have also applied.
It's believed to be a two-horse race between New Zealand and Wales, although Wales and Tunisia have also bid for the 2015 Under-17 World Cup, along with Russia and Chile.
By Michael Brown