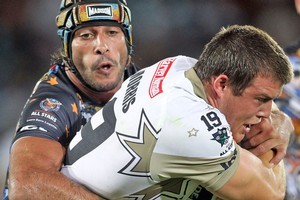 The NRL All Stars match will take on a new look this weekend, with an experimental rule being introduced for the match.
The rule will give the team in possession the opportunity for six more tackles if it kicks and regains the ball in its own half.
NRL boss David Gallop says it doesn't mean the new rule will be introduced to the competition but it's a chance to experiment.
As well as the new rule, the game will also be broadcast with on-field microphones on the trainers for each side.
Indigenous All Stars trainer Wendell Sailor and NRL All Stars trainer Brad Fittler will wear microphones in team huddles and will link with commentators to discuss the game.
- NEWSTALK ZB