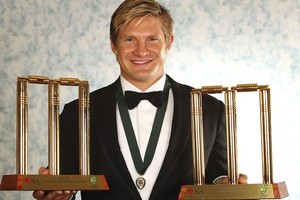 Shane Watson's versatility and durability shone through as he became just the second Australian cricketer to be named the the nation's best Test and one-day international player in the same year in Melbourne on Monday night.
The only previous recipient of both honours in the 12-year history of the Allan Border Medal night is Australia's Test and one-day captain Ricky Ponting, who achieved the dual feat in 2007.
While Watson won last year's top award, the Allan Border Medal, when he also took out the one-day award, Monday night was the first time he had been honoured as Australia's best Test player.
He polled 14 votes in the Test award, voted on under a 3-2-1 basis by Australia's squad members in each match, to hold out Mitchell Johnson (10 votes), Mike Hussey (eight) and Marcus North (seven).
It reinforced the remarkable climb in his status in Test cricket over the past two years, after the early years of his career were constantly hampered by injury.
Since being reinstated to the Test side as an opener in July 2009, he has amassed 1,696 runs in 19 Tests at 49.88, having only managed an average of 19.76 in his eight prior Tests over a four-year period.
During the year taken in by the voting period for Monday night's award, which included the recent Ashes series, he was Australia's top Test run-scorer, with 847 runs from 10 matches at 44.58, including seven 50s and one century.
He was also fifth on Australia's list of wicket-takers, with 29 scalps at 29.25.
Interestingly, the next three placegetters in the Test award were all under major selection pressure before or during the Ashes.
Hussey was almost a line-ball selection, before responding to pick up eight of a possible nine votes in the first three Ashes Tests.
Johnson was dropped for the second Test, before returning to be man of the match in the third, while North was dropped after the first two Tests.
Watson was only one vote clear of Hussey and Johnson, before picking up five votes in the last two Tests to surge home.
- AAP