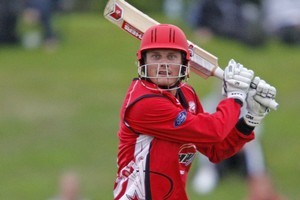 Canterbury have ridden the coat tails of the prolific Rob Nicol all the way to the final of the domestic one-day cricket competition.
Nicol filled his boots again today as the top qualifiers earned direct entry to the final on February 13 by winning their preliminary final over Auckland by 41 runs at QEII Park in Christchurch.
The 27-year-old right-handed opener crafted a quality 87 off 119 balls with 13 boundaries to help steer his side to a challenging 268 for eight before Auckland came up well short as they were dismissed for 227 in the 44th over.
Auckland still have a chance to book a rematch with Canterbury because they next contest the semifinal against Otago on Wednesday.
Otago remained alive by winning today's second preliminary final at Queenstown over Northern Districts by five wickets after a contest of wildly fluctuating fortunes featuring rain and a head-turning, matchwinning partnership.
Back in Christchurch it was Nicol who again demanded attention as he lifted his season's aggregate to 529 runs at an average of 66, his fifth half-century of the competition neatly complementing his lone century.
He took particular delight in putting his former teammates to the sword, having left Auckland for the southern post in the hope of improving his game.
Nicol has most certainly done that and today's effort came against a formidable seam bowling attack featuring present or past internationals in Chris Martin, Daryl Tuffey and Andre Adams.
Martin and Adams were the pick of the attack, ending with figures of three for 48 and two for 40, respectively, although for a time they were made to sweat by Nicol and Dean Brownlie, who shared a third wicket stand of 140 in 27 overs as Canterbury progressed to a threatening 192 for two after 40 overs.
It was then that Nicol was finally prised out and Brownlie, who had cleverly rotated the strike to benefit his in-form partner, followed soon afterwards for a heady 72 off only 88 balls, an innings containing only four fours and one six.
Despite losing gangly left-handed opener Tim McIntosh early, Auckland's pursuit began more than promisingly as Lou Vincent and Jeet Raval scored at better than run-a-ball place to hurry the visitors to 119 for one in only the 18th over.
But once Vincent was caught and bowled by Ellis for a 55-ball 62 Auckland's challenge quickly dissolved as Raval also beat a hasty retreat after being dismissed for 52 off 50 balls.
Auckland offered little resistance after that as seamer Mitchell Claydon snapped up four for 44 and Ellis completed a fine double by taking three for 38.
An outstanding, unbroken partnership of 165 off 166 balls between Darren Broom and Derek de Boorder highlighted a fiercely competitive game at Queenstown's Events Centre where Otago faced a reduced target after rain intervened.
After the visitors made a competitive 271 for eight, Otago were out for the count at 80 for five. Enter the day's heroes, Broom and de Boorder, who ended not out on 83 and 74, respectively as they passed the revised challenge of 236 in 46 overs.
The game ebbed and flowed from the outset, with Northern Districts in some bother at 125 for five after choosing to bat first before the lower order came to the rescue once opener BJ Watling had hit 55 in two hours.
Anton Devcich smacked a sprightly 42 off just 21 balls at the end while Joseph Yovich and wicketkeeper Peter McGlashan both posted 39 as Northern Districts controlled the latter stages of their innings.
Otago's chase then struck an immediate road bump with both opener Aaron Redmond and teenager Michael Bracewell back in the pavilion before the end of the fourth over.
It was all uphill from there for Otago, who tripped over before they were taken over the line by Broom and de Boorder.
Both were in full flight, with Broom on 54 and de Boorder 42 when their momentum was halted by a rain break, but they picked up the pace again after the restart to advance the score to 245 for five.
Canterbury
R Nicol c de Grandhomme b Adams 87
M Papps b Adams 16
P Fulton c Munro b Martin 1
D Brownlie c Munro b Tuffey 72
S Stewart c Hira b de Grandhomme 14
R Young c Adams b Tuffey 0
A Ellis not out 31
T Astle c Hira b Martin 5
C Frauenstein c Munro b Martin 16
Extras (1b, 14lb, 7w, 3nb) 25
Total (for 8 wkts) 268
Fall: 39, 56, 192, 197, 198, 220, 226, 254.
Bowling: C Martin 10-1-48-3 (4w, 1nb), D Tuffey 10-1-65-2 (1w, 2nb), A Adams 10-2-40-2 (2w), R Hira 10-0-44-0, C de Grandhomme 7-0-39-1, C Munro 3-0-17-0.
Auckland
T McIntosh c Stewart b Ellis 1
L Vincent c and b Ellis 62
J Raval c Young b Claydon 52
G Hopkins c Kain b Claydon 22
G Todd c Young b Nicol 7
C Munro c Papps b Nicol 23
C de Grandhomme not out 29
R Hira lbw b Kain 1
D Tuffey b Claydon 17
A Adams c Young b Claydon 0
C Martin lbw b Ellis 1
Extras (4b, 1lb, 5w, 2nb) 12
Total (43.1 overs) 227
Fall: 1, 119, 127, 147, 170, 197, 199, 226, 226, 227.
Bowling: M Claydon 9-0-44-4, A Ellis 8.1-0-38-3, R Nicol 10-0-44-2 (1w), C Frauenstein 4-0-27-0 (2nb), M Kain 5-0-35-1 (1w), T Astle 7-0-34-0 (1w).
Result: Canterbury won by 41 runs and qualify directly for the final on February 13.
- NZPA