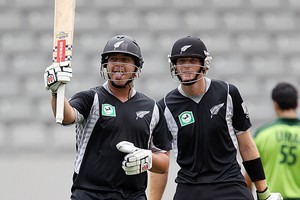 At last some pre-World Cup cheer for New Zealand cricket followers.
A 57-run win in the sixth and final one-day international against Pakistan at Eden Park here today was not enough to avoid a series defeat - the tourists claim the spoils 3-2 - but New Zealand will head offshore on Tuesday, bound for the subcontinent-hosted World Cup, with a tick in the win column and some confidence in the luggage compartment.
A belligerent Jesse Ryder was the man of the moment, delivering an overdue big innings after a poor summer by his standards with a superb hundred, while Scott Styris and Nathan McCullum provided the finishing touches as New Zealand finally compiled the sort of innings new coach John Wright has been looking in posting 311 for seven after being sent into bat.
Pakistan lost their two openers inside the first 10 overs and never really threatened from there against another solid home bowling effort, spearheaded by young quick Hamish Bennett.
No 3 Kamran Akmal scored a classy 89 from 84 balls but when he became the second of left-armer James Franklin's three victims, still with 132 runs to go, the match was essentially over. Captain Shahid Afridi provided some late fireworks with 44 but they were always off the pace and were bowled out for 254 in the 45th over.
Franklin, used by captain Ross Taylor as the seventh bowler, did the damage in the middle stages and ended with three for 50 but Bennett was the bowler of the day. He received some punishment in Hamilton two days ago but bowled with controlled aggression today to snare career-best figures of four for 46 from 8.1 overs.
Kyle Mills, with one for 30 from eight, was also impressive at the top as New Zealand cruised to just their second win in 16 matches.
Ryder, who had five ducks in nine previous innings during Pakistan's tour, was bumped down to No 3 to accommodate Brendon McCullum's return to opener but he strode to the middle confidently when McCullum fell early and proceeded to thrill the crowd with a full array of shots in a 93-ball 107, his second century from 28 one-day matches for his country.
The 26-year-old shared in a run-a-ball 123-run partnership with opener Martin Guptill, who scored 44, as New Zealand set themselves up superbly by reaching 126 for one after 20 overs.
They lost momentum as several wickets fell in the middle stages but Ryder, who was forced to use McCullum as a runner after a slight hamstring twinge when in the 70s, pushed on to three figures. He was out soon after having stroked seven fours and bludgeoned six sixes, most of which came over the leg side.
At 190 for five there was a risk Ryder's good work might be undone, but Styris and Nathan McCullum combined to plunder 120 runs from 83 balls, including 72 from the last five overs.
Nathan McCullum's stocks as an allrounder continue to rise. He scored his second half-century in three matches and was out in the final over for a powerful 65 off 50 balls, including three sixes, while Styris remained unbeaten on 58 from 44 balls after the pair made use of the short boundaries in the powerplay overs.
New Zealand were aided by a mistake from Afridi, who thought the batting powerplay had been taken in the 44th over. He brought all but three fielders into the circle, allowing New Zealand to score 16 runs from 1.3 overs, before realising no signal had been made. New Zealand then took the powerplay in the final five overs.
Few bowlers were spared after Pakistan, who have an unassailable 3-1 series lead, won the toss and fielded. Left armer Sohail Tanvir had a particularly tough day with one for 78 from eight overs.
Meanwhile, captain Daniel Vettori missed a second successive match because of a hamstring strain while allrounder Jacob Oram was a late withdrawal because of a foot injury. Oram had scans today and it is understood he has an inflamed left ankle, but the injury is not thought to be serious.
New Zealand Innings
Martin Guptill c Gul b Razzaq 44
Brendon McCullum c Kamran Akmal b Tanvir 12
Jesse Ryder c Sohail b Hafeez 107
Ross Taylor c Kamran Akmal b Razzaq 5
James Franklin c Kamran Akmal b Akhtar 8
Scott Styris not out 58
Nathan McCullum c Shehzad b Hafeez 65
Kyle Mills run out 0
Extras (3lb,8w,1nb) 12
TOTAL: (for seven wickets) 311
Overs: 50.
Fall of wickets: 1-18, 2-144, 3-153, 4-174, 5-190, 6-310, 7-311.
Did not bat: Luke Woodcock, Tim Southee, Hamish Bennett.
Bowling: Shoaib Akhtar 7-1-38-1 (1w), Sohail Tanvir 8-0-78-1 (5w), Umar Gul 9-0-61-0 (1w,1nb), Mohammad Hafeez 9-0-57-2, Shahid Afridi 10-0-51-0 (1w), Abdul Razzaq 7-0-23-2.
Pakistan Innings
Mohammad Hafeez c Franklin b Bennett 21
Ahmed Shehzad c sub (How) b Mills 6
Kamran Akmal c Taylor b Franklin 89
Younis Khan c Brendon McCullum b Bennett 16
Asad Shafiq run out 26
Umar Akmal c Brendon McCullum b Franklin 8
Shahid Afridi c Nathan McCullum b Bennett 44
Abdul Razzaq c Taylor b Franklin 1
Sohail Tanvir run out 30
Umar Gul c sub (How) b Bennett 1
Shoaib Akhtar not out 2
Extras (3lb,6w,1nb) 10
TOTAL (all out) 254
Overs: 44.1.
Fall of wickets: 1-4, 2-31, 3-58, 4-132, 5-150, 6-180, 7-183, 8-241, 9-251, 10-254.
Bowling: Kyle Mills 8-1-30-1, Tim Southee 8-0-47-0 (1w), Hamish Bennett 8.1-0-46-4 (3w,1nb), Luke Woodcock 3-0-27-0, Nathan McCullum 4-0-24-0, Scott Styris 5-0-27-0 (1w), James Franklin 8-0-50-3 (1w).
Result: New Zealand won by 57 runs.
Series: Pakistan won the six-match series 3-2.
Umpires: Steve Davis, Australia, and Tony Hill, New Zealand.
TV umpire: Billy Bowden, New Zealand. Match referee: Alan Hurst, Australia.
- NZPA, AP