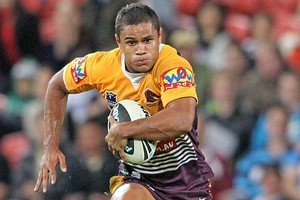 Josh Hoffman didn't have to wait long to hear from Kiwis rugby league coach Stephen Kearney after he pledged his allegiance to New Zealand.
The talented Brisbane Broncos fullback, a readymade replacement for Aussie Rules convert Karmichael Hunt, announced on Tuesday he had aspirations to play for the Kiwis after making an emotional journey with father Shane to his marae and the tribe's ancient burial site.
The duo made the pilgrimage after the Broncos played the New Zealand Warriors in Auckland in the penultimate round of the regular season and it made a lasting impression on the 22-year-old.
Born and raised in Mackay, North Queensland, Hoffman began weighing up his representative future after an impressive debut season in first grade - the choice was strive for State of Origin and Kangaroos honours or make himself available for the Kiwis.
There were initially mixed messages - Hoffman had been quoted as declaring his allegiance to New Zealand but when Kearney called to sound him out, the rookie's stance was non-comittal.
"The story read he wanted to play for the Kiwis so I rang Josh to ask and he said he had been put on the spot a bit, that he was brought up in Queensland and all his mates were Queenslanders,""Kearney said.
"I said 'no worries', if you change your mind let us know."
When clarifying his position this week Hoffman joked he might have to call Kearney during the season to remind him he was available - but the Kiwis coach contacted him last night.
"I said 'Mate, we're happy to have you on board' and hopefully we'll see more of you,
"It's a nice story. He's gone back to his father's marae and felt the connection with his Maori background. It's really good."
Ironically Hoffman's predecessor at the Broncos No 1 jersey, Hunt, was born in Auckland but was determined to play for Queensland and Australia - goals he achieved before switching to AFL expansion club Gold Coast.
While Kearney was happy to have Hoffman at his disposal, other up-and-coming NRL players with the opportunity to represent New Zealand or Australia place greater emphasis on State of Origin.
Sydney Roosters utility BJ Leilua was named in the Kiwis Four Nations train-on squad last year but subsequently expressed his desire to play for NSW and has made Ricky Stuart's preliminary selection for 2011.
Current New Zealand captain Benji Marshall completed his education on the Gold Coast and played for the Australian schoolboys against the junior Kiwis before reverting to his homeland.
Kearney said he appreciated dilemma facing players with dual nationality and would not try and pressurise them to pick New Zealand.
"I'm not trying to handcuff them. The choice is theirs."
"We were aware of Josh at the Broncos but it needs to be the player's decision."
Hoffman, whose mother is a Torres Strait Islander, was comfortable with his decision to essentially turn his back on Queensland.
"I can't play Origin but with my mum being of indigenous descent and my dad from New Zealand, I hope I can play in the Indigenous All Stars for both of them," he said.
"I enjoyed watching Origin, watching the old greats when I was a kid but growing up I never really dreamt about playing Origin, I always wanted to play for New Zealand."
- NZPA