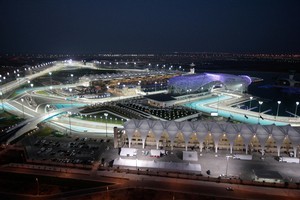 V8 Supercars make just one trip outside Australasia in 2011 but chief executive Martin Whitaker feels new offshore rounds will be held in the future.
Next month's season-opener in Abu Dhabi is the only overseas round in the championship aside from the trip to Hamilton in New Zealand after Bahrain ended its four-year association with the category when the 2011 calendar was released late last year.
It means the Gulf state joins China as international destinations to host, and then dump, V8 Supercars.
But Whitaker insists the news won't end the championship's plans to take their sport to more points around the globe.
"Naturally of course it's a shame that we don't have Bahrain on the calendar," he said.
"But having said that I do appreciate they've got a lot of difficulties in terms of their own calendar and it perhaps just didn't fit in with them this year.
"They've got the Formula One test, they've got the first Formula One race, they've got a whole host of other things going on at the circuit. It was just a difficult one.
"We're working on other international events.
"We now have this international stamp of approval from the FIA, it gives us a chance to spread our wings a little bit and I think we've got some quite interesting ideas up our sleeves.
"It's a little bit of a transitional year, we're going to see those things start to come on perhaps in the second half of the year, possibly for 2012 but definitely for 2013."
Whitaker also dismissed concerns over the other overseas event, the Hamilton 400, which will be officially promoted by V8 Supercars in 2011 after local promoters Caleta Street Management ran into financial issues.
"Absolutely none at all," he said when asked if he had any concerns over the event.
"For us in a way it's a challenge because obviously it's the first time we've promoted the event and I think that's part of the issue in a sense with Hamilton.
"We've got a great relationship building with the mayor ... interestingly we're beginning to engage with the business community there which is very important.
"I think it's going to be great. Don't forget it's the biggest sporting event in New Zealand apart from this year obviously with the rugby World Cup."
The V8 Supercars officially launch their 2011 season with a full day of testing at the Eastern Creek racetrack in Sydney's west on Saturday.
Whitaker said giving local fans the chance to see the cars and drivers before beginning the championship in the Middle East was an important thing.
"I think we've got a fantastic event tomorrow, in terms of seeing all the teams in one place before we kick off the championship in the Middle East," he said.
"It's nice to do something on home soil in Australia."
- AAP