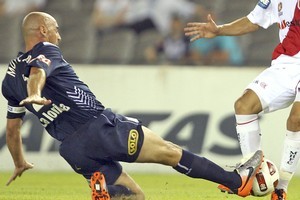 Kevin Muscat. Photo / Getty Images
Melbourne Victory skipper Kevin Muscat will end his career in disgrace after being suspended for the remainder of the A-League season.
The Football Federation Australia (FFA) disciplinary committee handed down a total ban of eight weeks, including a match he's already served, for his horrific tackle on Melbourne Heart youngster Adrian Zahra during last weekend's heated derby.
With three matches of the regular season left to play the ban ensures the 37-year-old will take no further part in the competition even if Melbourne make it all the way to the grand final.
Should they not he will have to serve the remainder of the weeks next season.
But with Muscat widely expected to be playing his last A-League season, the ban looks to have all but ended his career.
He will however be able to play in the Victory's upcoming Asian Champions League campaign - a domestic suspension having no bearing on the ACL competition.
During the hearing Muscat read from a prepared statement saying that he "deeply regretted" the tackle and he "spent most of Saturday night worrying about Adrian".
He implored the committee to realise that he "didn't intend to injure Adrian" and referred to the incident as nothing more than a grossly "mistimed tackle".
The notorious tackle ended not only Muscat's season but also that of Zahra who sustained serious ligament damage and is likely to undergo surgery and a lengthy period of rehabilitation.
The committee took into account Muscat's incident-ridden record over his almost 20-year career, saying that in some cases a player's disciplinary record may provide reason to reduce the length of suspension but "in this case it works the other way."
A shameful list of examples of reckless behaviour was put into submission to the committee, stretching as far back as 1998 when Muscat was playing with English club Wolverhampton Wanderers.
It recalled several brutal challenges by the defender that resulted in serious injury to players, one of which was Charlton Athletic's Matty Holmes, whose leg was broken and career ended by a Muscat challenge during a '98 FA Cup clash.
After an hour-long deliberation the committee found that Muscat was "acting with complete disregard to the danger to, or consequences for, his opponent" saying that "so far as reckless conduct is concerned this was at the higher range of culpability."
Melbourne Victory have seven days to submit an appeal.
- AAP