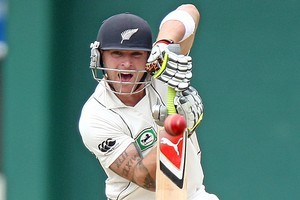 New Zealand have a chance of victory; so do Pakistan, and you could not ask for more going into the final day of the test series at the Basin Reserve today.
The tourists, who won the first test and therefore hold the advantage, will start their second innings needing 274 to win. New Zealand will have a minimum 90 overs - weather permitting - to take 10 wickets.
A successful chase would equal the record fourth innings winning score on the ground, also by Pakistan in 2003, engineered by greats Inzamam-ul-Haq and Mohammad Yousuf.
Judging by some of the activity in the middle in the final session yesterday, New Zealand might be optimistically thinking "only" 10 wickets as Pakistan's part-time offspinner Mohammad Hafeez turned into Muttiah Muralitharan for a time, getting the ball to grip and spin prodigiously.
New Zealand, who began the day at nine without loss, made progress through a painfully slow morning, when the ball was changed twice and the fielders dawdled over just 25 overs.
But it turned into a lurch after tea once Jesse Ryder made a bad choice to shoulder arms to the first ball of the session from Hafeez.
Rapid runs from the burly lefthander would have given New Zealand real impetus and the chance to set things up quicker. It might even have prompted thoughts of a late-afternoon declaration yesterday.
Instead, Pakistan's leading seamer Umar Gul set up the denouement with a lively burst.
The last five New Zealand wickets fell for 25 in 33 balls, Gul taking four of them, starting with Ross Taylor after his second half century of the match.
Gul was deprived of a hat-trick by a Chris Martin inside edge and therefore, you'd think, he was a bit stiff.
A quick 22 from Tim Southee gave New Zealand a little surge at the end to 293 and that was important to leave the contest nicely poised.
"It's set up for what could be a great day of cricket to finish a test," Brendon McCullum said.
"Everyone is excited about what tomorrow brings, turning up on the fifth day not knowing whether you're going to win or lose. Having the opportunity to go on and win is pretty exciting.
"I think you'll see a real desperate show from us tomorrow."
McCullum and Martin Guptill shared a 120-run opening stand - just the third by New Zealand openers in the past six years. Mark Richardson and Stephen Fleming put on 163 at Nottingham in 2004; McCullum and Tim McIntosh added 125 at Hyderabad last November.
Both batsmen gave chances en route to half centuries. Guptill was put down three times and clunked on his helmet and body by Gul and Wahab Riaz.
But some momentum was lost as the afternoon wore on and Ryder's wicket was crucial.
Taylor and Reece Young added 60 but Pakistan were tidier with the ball than they were in the field.
Once the indefatigable Gul fired up, events moved quickly. His match figures, eight for 148, were eloquent testimony of his value to Pakistan.
The key ingredient today could be Pakistan's attitude.
If they hunker down and shy away from a tough but gettable target it will mean New Zealand having to dig the wickets out, but armed with the knowledge that they won't lose.
Pakistan have stroke-playing batsmen who could emulate the achievement of Inzamam and Yousuf eight years ago.
But New Zealand have won more tests at the Basin than anywhere else. If they are inspired with the ball, they could add a chapter to that record.