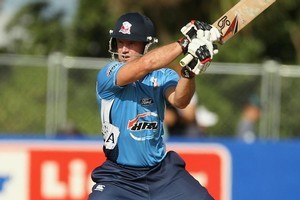 "More of the same" is the mantra from Auckland as they seek to build on the one-day cricket template which got such a boost from their last-round victory against Wellington.
Auckland take an unchanged squad to play Canterbury tomorrow at QEII Park with all their ideas about building on their last match momentum and recollecting that rhythm.
"We had a great deck [Colin Maiden Park] for our last game and that helped push up our score, but we want to play that way again," captain Gareth Hopkins said.
Building the middle of an innings, choosing the angles against spinners, rotating the strike and finding the best methods to pick up five or six runs an over were important components, he said, and the way to create success in 50-over cricket.
"There are times when you have to have calculated risks, but that is all part of playing limited-overs cricket. It is important we keep on a roll and build on the confidence we will take out of our last match," Hopkins said.
"But the key for us this year in the shorter forms of the game has been our bowling. We have got a great unit and plenty of options and those guys have really been winning us games. It will be more of same old, same old."
Players had to adapt from the high-intensity, rapid-fire energy of 20-over cricket to the more measured but equally demanding 50-over matches, Hopkins said.
Coach Paul Strang felt his side were capable of reproducing the excellent all-round effort - highlighted by the 120 from Hopkins - they needed to see off Wellington by eight runs in their last match.
"We created partnerships and we had Hoppy batting right through - it's pretty much a blueprint for how to succeed at one-day cricket so we obviously want to continue to do that," he said.
"Our fielding was outstanding in the HRV Cup and we want to maintain those standards in the one-day comp. I think it really brings an extra element to our game."
Northern also bagged a thrilling victory when they chased down 280 in their second-round game against Central and the defending champions will be after a similar result against Wellington tomorrow at Cobham Oval.
Coach Grant Bradburn was grateful opener Daniel Flynn collected a century as he provided most of the backbone of the winning innings.
"That was great but we still need to have more hunger and be even harder on ourselves," he said.
"We have to change our culture from hoping and swinging to working hard through the unglamorous parts of the game. We are happy how we are tracking and have had two close games which could have gone either way," Bradburn said. "We have got a great deal to work on with building partnerships, working on better discipline throughout our game."
Northern have been working on those strategies with an unchanged squad for the past few days up in Whangarei, while in the other match tomorrow Central will host Otago at Palmerston North.