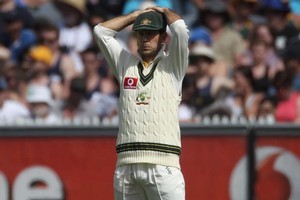 England cricket coach Andy Flower expects the world No.1 ranked Australians to give his side a huge challenge in the coming seven-match One-Day International series.
The Zimbabwean-born coach said England had little time to "bask long in the sunshine" of their 3-1 Test triumph, with a one-day game against the Prime Ministers XI in Canberra on Monday followed by two T20 internationals and the one-day series.
Less than two months out from the ODI World Cup, England are ranked just fifth and will take on Australia without Stuart Broad for all seven games and Test linchpin James Anderson for the first three.
"We are the T20 world champions and we've got to play well, we know they (Australia) are a very good side," Flower said on Saturday.
"They are the No.1 one-day international side in the world and I think we are languishing in the middle of the table somewhere, so that is going to be a huge challenge for us.
"We won't have two of our premier strike bowlers in Anderson and Broad, certainly not for the first half of the series in Anderson's case.
"That will be a challenge for our bowling attack, but also quite an exciting opportunity for them."
Flower said playing tough cricket against a good side would "harden up" England for the World Cup, even though he stressed they would face very different conditions in the subcontinent.
The resounding innings win at the SCG on Friday moved third-placed England closer to second-placed South Africa in the Test rankings, while Australia sits fifth, below Sri Lanka.
Flower said it was realistic for England to aspire to the top Test ranking, currently held by India, who they play at home in a few months time.
"I don't know if we will get there or not, but it's certainly achievable," Flower said.
he attributed England's stunning Test success against Australia to a combination of factors including team unity, the developing skills of their batsmen and bowlers and the captaincy of Andrew Strauss.
"I think Strauss's leadership is a very influential factor in that success," Flower said.
"He's been very strong in the dressing room and out in the middle with the bat or while he's marshalling the troops.
"I think he's grown in stature through the series and considering the high position he started the series in, that's saying quite a lot.
"The unity of the squad has been important and I think the skills they displayed.
"The batsmen, in how they left the ball when they needed to, and attacked when they could. I thought the bowlers using reverse swing or conventional swing depending on the conditions, those were crucial factors."
Flower said England had demonstrated ruthlessness in taking opportunities with bat and ball, making big scores and then taking "little pockets of wickets together which ensured mini collapses".
He praised prolific opening batsman Alastair Cook for displaying strength of character after the left hander's form had been questioned prior to the series.
"Considering that people were calling for his head not so long ago, I think it's an outstanding riposte, although that's not why he did it," Flower said.
- AAP