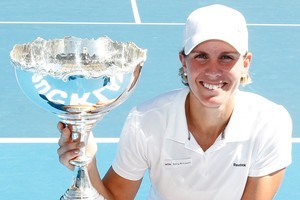 Unseeded Hungarian Greta Arn completed a dream run in the ASB Classic tennis tournament in Auckland today when she toppled defending champion Janina Wickmayer of Belgium in straight sets.
Arn's 6-3 6-3 victory over the second seed gave her a second WTA Tour title, after Estorial in 2007 when she was a qualifier.
Ranked 88 and unseeded, showed the benefit of long experience as she prolonged rallies and minimized errors to beat the second-seeded Wickmayer, ranked 23. The win gave Arn her second career title, three years after she won as a qualifier, ranked 176th, at Estoril in Portugal.
After arriving in New Zealand without her coach - who deemed it too far to travel - and her luggage which was lost en route, she beat top-seeded Maria Sharapova and fourth-seeded Julia Goerges on her way to Saturday's final.
While Arn sympathized with Wickmayer in defeat, she was unable to understate the value of her victory.
"I'm 31, you're 21. You have to much time to win other tournaments,"she told Wickmayer.
Arn was able to control Saturday's match, as she has done others during the week, through patience and precision. She had a reliable first serve and she concentrated on keeping the ball in play, hitting mostly through the middle of the court to cramp the taller, rangier Belgian.
Wickmayer, in contrast, paid heavily for her impatience, rushing points and making more than 30 unforced errors.
Arn called her 6-2, 7-5 quarterfinal win over the former top-ranked Sharapova a dream come true and after beating Goerges 7-6 (3), 6-3 said she was playing the best tennis of her career and took it to another level in the final.
Her career began in 1997, when Wickmayer was only eight years old, and has contained few highs to match Saturday's win. She reached her career-high ranking of 81 after her win in Estoril but will likely exceed that after her win in Auckland and after ending 2010 ranked inside the top 100 for the first time in eight years.
She was forced to quit the professional circuit and work in advertising for three years from 2002 when a former agent left her finances in turmoil. Before Sharapova she counted as the biggest individual win of her professional career a distant victory over the long-retired Mary Pierce.
While other player were accompanied to Auckland by coaches and trainers, Arn traveled alone. Her coach Vittorio Magnelli, the husband of former tour player Sandrine Testud, declined the trip, saying New Zealand was too far away ``unless I buy a Concorde.''
"He said he's traveled too much in his life. Australia is just too far away, and New Zealand of course," Arn said.
- NZPA / AP