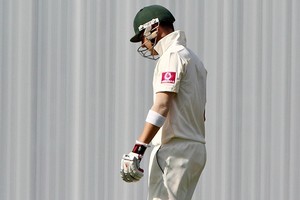 Australian allrounder Shane Watson admits his team will be defined by the humiliating events of this Ashes encounter.
The final insult awaits after the batsmen gave England free passage to the brink of an unprecedented third innings victory of the series on day four of the fifth test.
Australia conceded 644, the largest innings by an England team in this country and the sixth highest in all tests down under, before their batsmen found familiar ways to get out as the Barmy Army entered a state of celebratory delirium at the SCG.
England claimed the extra half-hour to force victory but the home side staggered to 213 for seven at the close, the tourists 151 runs ahead and three wickets away from a 3-1 series scoreline and the first time Australia have ever lost three matches by an innings in the same series.
As he had done as England closed in on the Ashes in Melbourne, Watson conceded the match was beyond Australia's grasp.
"It's not great to be a part of something that has been as disappointing as it has over the last little while in test cricket to be honest," he said.
"It'd be nice to be in the golden era there's no doubt as a player but unfortunately we're just not playing well enough to be a part of that at the moment.
"Going into this Ashes series I thought there were going to be defining moments in our careers, and there has been maybe on the wrong side unfortunately."
Opener Watson (38) was involved in a third run out for the summer to start the procession, allowing England's pace trio of Tim Bresnan (2-32), Jimmy Anderson (2-50) and Chris Tremlett (2-53) to sweep away the rest with embarrassing ease.
Led by their combative wicketkeeper Matt Prior (118), England's lower order had dominated Australia's haggard bowlers as Bresnan (35), Graeme Swann (36 not out) and even last man Tremlett (12) made merry.
Mitchell Johnson (4-168) was treated at times like a club seamer, including a final four-over spell of 0-48, while Ben Hilfenhaus (3-121), Peter Siddle (1-111) and debutant Michael Beer (1-112) all notched unwanted centuries.
Hilfenhaus was millimetres away from becoming the third Australian bowler of the series to be denied a wicket by another no-ball.
Another of his deliveries almost struck his own foot and bobbled down the pitch in the manner of the famed Youtube footage of the former Prime Minister John Howard's attempt at off breaks - it was that bad.
Resuming on Thursday at 488 for seven in reply to 280, England were not long in adding another record to their name, becoming the first side to pass 500 four times in a single Ashes series.
Driving crisply through the offside, Prior soon had his first century against Australia, while Bresnan's obdurate display suggested he was auditioning for the spot in the England XI that will be vacated by the retiring Paul Collingwood.
A pleasant afternoon and still-flat pitch allowed Watson to spank a handful of percussive drives, but his mix-up with Hughes gifted England the first wicket of the innings yet again.
Hughes (13) hung his bat out at Bresnan to be caught behind and so return a sorry series aggregate of 97 runs at 16.17.
Usman Khawaja (21) again looked assured at No 3 but was undone by a princely delivery from Anderson that zipped away from him, while Michael Clarke (41) played a handful of decent strokes before he was undone by fiendish late outswing.
Mike Hussey (12) parried Bresnan to gully, as ever sparking the most uproarious England celebrations for their most valued wicket.
Brad Haddin (30) was tangled up by a brutish Tremlett bouncer and caught behind, then next ball a downcast Johnson was bowled between bat and pad.
Steve Smith (24no) and Peter Siddle (17no) avoided the ignominy of defeat in four days, but it was scant consolation.
- AFP