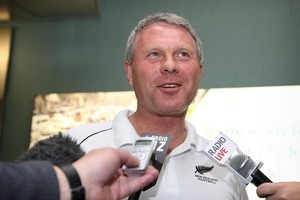 The All Whites have confirmed they will play Japan and China in two away friendly internationals in March next year.
They will play China in the southern city of Nanning on March 25 and Japan on March 29. The venue for the Japan match - likely to be Tokyo - was due to be announced by the Japan Football Association at a press conference in the Japanese capital tonight.
With the winner of Oceania World Cup qualifying almost certain to play the fifth place Asian team in a home and away tie to qualify for the 2014 World Cup, All Whites coach Ricki Herbert sees the two games as ideal preparation.
"It's really important. We probably didn't have the opportunity to do this last time so it's great, with Japan have just come off a World Cup as well, and China being the force they are," said Herbert.
While Herbert won't name his squad for the matches until well into the New Year, he has hinted new talent - such as breakout A-League players Kosta Barbarouses and Marco Rojas - could be given an opportunity.
"It's a chance to regroup and look at what will be needed in the campaign," Herbert said.
"It's going to be really valuable to bring some new players in, and I say that with World Cup qualifiers looming next year as well. It's going to be important to give some players a lot of All Whites exposure.
"The squad won't be completely different but there certainly will be some new faces."
The All Whites are currently ranked 63rd in the world.
New Zealand has met China, ranked 87th in the world, on 11 occasions, with six wins, two draws and three losses.
The All Whites have not beaten China in their own country however, losing three times and drawing once.
China was the final opposition in New Zealand's historic World Cup qualification in 1982, beating them 2-1 in Singapore to reach Spain.
New Zealand have only played Japan, who ranked 29th in the world, four times, winning three times and losing only once. New Zealand's last win against the Japanese was in 1983 in Tokyo, and when the teams last met in 2003 in Paris, Japan won 3-0.
Japan reached the round of 16 at this year's FIFA World Cup in South Africa, losing 5-3 on penalties after a nil-all draw with Paraguay.
Oceania's 2014 World Cup qualifying will begin with the football competition at the Pacific Games in New Caledonia in late August. The top three teams will be joined by New Zealand in stage two where each team meets the others home and away over three FIFA windows in 2011 and 2012.