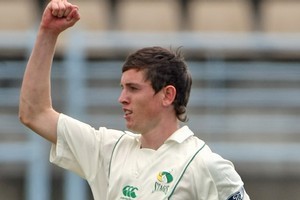 There are three shock additions to the Black Caps' Twenty20 squad to face Pakistan in a three match series starting on Boxing Day.
Dean Brownlie, Adam Milne and Luke Woodcock have been named in the squad which will be captained by Ross Taylor as Daniel Vettori needs more time to recover from a back injury.
Meanwhile Canterbury wicketkeeper Reece Young has been named in the test squad for the series starting on January 7.
The 30 man World Cup squad was also named today. The squad, which is to be reduced to 15 players by January 19, includes seven uncapped one-day members; Brent Arnel, Doug Bracewell, Rob Nicol, Brownlie, Milne, Woodcock and Young.
Selector Mark Greatbatch says the three newcomers to the Twenty20 squad were picked on form and potential.
"Dean Brownlie and Luke Woodcock have both enjoyed very good domestic form over the last couple of seasons and richly deserve their opportunity," he said.
"Adam Milne is a promising young bowler and this is we are keen to give him some early exposure in international cricket.
"Adam Milne is a young up and comer with the potential to have a big impact in international cricket for many years. Twenty20 is the ideal format for the new guys to get some international experience and exposure."
Wicketkeeper Peter McGlashan is likely to wear the gloves with Brendon McCullum's back still not 100 percent, Greatbatch said.
Jeetan Patel and BJ Watling have been dropped from the test squad that toured India along with Gareth Hopkins who has been replaced by Young.
"We believe it's a well balanced squad and we look forward to a competitive Test series against a very good Pakistan side," Greatbatch said.
The T20 squad is:
Dean Brownlie - Canterbury Wizards
Ian Butler - Otago Volts
James Franklin - Wellington Firebirds
Martin Guptill - Auckland Aces
Brendon McCullum - Otago Volts
Nathan McCullum - Otago Volts
Peter McGlashan - Northern Knights
Kyle Mills - Auckland Aces
Adam Milne - Central Stags
Jesse Ryder - Wellington Firebirds
Tim Southee - Northern Knights
Scott Styris - Northern Knights
Ross Taylor (c) - Central Stags
Luke Woodcock - Wellington Firebirds
The test squad is:
Brent Arnel - Northern Knights
James Franklin - Wellington Firebirds
Martin Guptill - Auckland Aces
Chris Martin - Auckland Aces
Brendon McCullum - Otago Volts
Andy McKay - Wellington Firebirds
Tim McIntosh - Auckland Aces
Jesse Ryder - Wellington Firebirds
Tim Southee - Northern Knights
Ross Taylor - Central Stags
Daniel Vettori - Northern Knights
Kane Williamson - Northern Knights
Reece Young - Canterbury Wizards
World Cup squad:
Brent Arnel - Northern Knights
Hamish Bennett - Canterbury Wizards
Doug Bracewell - Central Stags
Dean Brownlie - Canterbury Wizards
Ian Butler - Otago Volts
Grant Elliott - Wellington Firebirds
Daniel Flynn - Northern Knights
Martin Guptill - Auckland Aces
Jamie How - Central Stags
James Franklin - Wellington Firebirds
Kyle Mills - Auckland Aces
Adam Milne - Central Stags
Brendon McCullum - Otago Volts
Nathan McCullum - Otago Volts
Peter McGlashan - Northern Knights
Andy McKay - Wellington Firebirds
Rob Nicol - Canterbury Wizards
Jacob Oram - Central Stags
Jeetan Patel - Wellington Firebirds
Jesse Ryder - Wellington Firebirds
Tim Southee - Northern Knights
Shanan Stewart - Canterbury Wizards
Scott Styris - Northern Knights
Ross Taylor - Central Stags
Daryl Tuffey - Auckland Aces
Daniel Vettori - Northern Knights
BJ Watling - Northern Knights
Kane Williamson - Northern Knights
Luke Woodcock - Wellington Firebirds
Reece Young - Canterbury Wizards
- Herald online