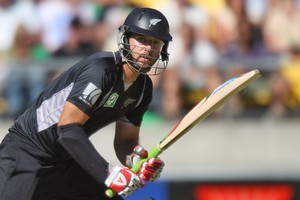 Black Caps captain Daniel Vettori will not appear for Northern Districts in the domestic Twenty20 championship as he rests a sore back ahead of the home international series against Pakistan, which starts on December 26.
Vettori has had a troublesome back since the test series against India last month and has decided to skip the domestic Twenty20, he told reporters on the New Zealand team's return home late last night.
"The shoulder is OK, I've just got a few issues with the back from the test matches," he said.
"I get a little bit of a break now, I'll hopefully rest up and get ready for the Pakistan series because obviously that's pretty important for us."
New Zealand play Pakistan in three Twenty20 matches, two tests and six one-day internationals in their last series before the one-day World Cup in India, which starts in late February.
- NZPA