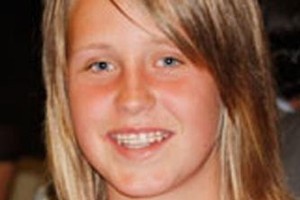 She's the daughter of an Australian league great, but Netball New Zealand would like to see her one day wearing the silver fern.
Promising young defender Jamie-Lee Price, daughter of former NZ Warriors captain Steve, was this week invited to trial for the New Zealand Secondary Schools team, an event that will be held in Christchurch in April next year.
The 14-year-old Mt Albert Grammar student will be among 28 young players that will trial for a place on the New Zealand team, coached by Helene Wilson, for the transtasman secondary schools tournament in Porirua next year.
A talented athlete, Jamie-Lee has played for her school's A netball and touch sides since her first year of high school and is seen as a top young sporting prospect.
It's something her Dad says is in the genes. While Steve's sporting pedigree is well known, his wife Jo was a talented sportswoman, excelling in netball and athletics.
"She's like her Mum and her Dad," said Price. "She loves her sport and she gets by with her schoolwork."
The Price family have lived in Auckland since 2005, when Steve joined the Warriors from the Canterbury Bulldogs. His NRL career came to an end this year after injury prevented him from taking the field for the Warriors in his farewell season.
But with Jo halfway through a teaching degree and then required to spend two years teaching in schools before she can gain her registration, the family are likely to stay in Auckland for at least another three to four years.
Price, who has played 16 tests for the Kangaroos, said despite his green and gold allegiances, he'd be delighted to see his daughter wearing the silver fern.