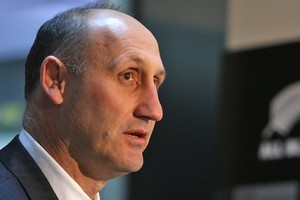 New Zealand Rugby Union chairman Jock Hobbs has resigned from the NZRU boards effective immediately to focus on his health.
As announced in May, Hobbs was diagnosed with a form of Leukaemia which required chemotherapy treatment over a six month period. Soon after completing that treatment sudden and unexpected complications arose.
Hobbs, also the Rugby New Zealand 2011 Ltd (RNZ 2011) chairman, has now been diagnosed with non-Hodgkin's lymphoma which will require a more aggressive treatment regime over an extended period of time.
As a consequence of this new diagnosis and the required treatment, Jock has made the difficult decision to resign from both board roles.
NZRU CEO Steve Tew said the NZRU wished Jock and his family the very best for this important stage of his treatment and acknowledged the enormous thanks owed to Jock for his service to rugby in his time as Chairman which began in 2002.
"Under Jock's Chairmanship, the NZRU has enjoyed a period of sustained achievement on and off the field, while the game in New Zealand has also had to navigate a number of major challenges," he said.
"During Jock's tenure, New Zealand successfully hosted the 2005 DHL Lions Series, re-built our international reputation and relationships, won the bid to host Rugby World Cup 2011 and established the organisation and support necessary to run the Tournament, set new benchmarks in national team success, and managed major transitional changes in Domestic and International Rugby.
"Jock has been instrumental in many of these achievements and developments and the Board and indeed everyone associated with the NZRU are grateful for his commitment and service."
The NZRU Board has elected Mike Eagle Chairman.
Brian Roche is currently acting Chair of Rugby New Zealand 2011 Ltd and the NZRU and Government will discuss the Chairmanship role in due course.
- Herald online