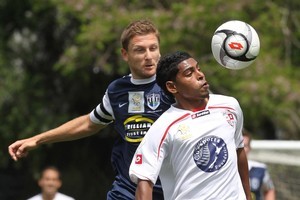 After a stuttering start to their season - an odd-goal away win against Waikato FC, a scoreless draw against Team Wellington (also away) and a 3-1 home loss to Waitakere United, there is the feeling Auckland City are ready to put their ASB Premiership season firmly on track.
Heartened by their never-say-die, stunning last-ditch equaliser in their O-League battle with Waitakere at Fred Taylor Park, City coaches Ramon Tribulietx and Aaron McFarland have, not surprisingly, stuck with the same XI for tomorrow's home game with Otago United.
"We looked at bringing David Mulligan back in but felt it was better to leave him for another week," said McFarland. "The prize is at the end of the season and it is more important you have your best players ready for that."
Elsewhere on the injury front the news is better than first feared.
Influential midfielder Luis Corrales - injured in the premiership loss to Waitakere - faced the prospect of missing the rest of the season but that fear has now been tempered with the mercurial playmaker likely to be back in three to four weeks.
"Originally it was feared it might have been an ACL injury but he has now learned it is only medial damage and should respond quicker," said McFarland.
Asked what he expected from the southerners, McFarland said he and Tribulietx had "a little dossier" on the Otago players.
"Their coach Malcolm Fleming has said he wants to free his players up to play an expansive game and that might be the case but often you find a lot of teams turn up at Kiwitea St more determined to put players behind the ball and defend."
McFarland said they had gone into the season with a plan for an initial five-week focus but were now taking it on a week-by-week basis.
Waitakere, atop the table with a three-from-three start, travel to play YoungHeart Manawatu with enforced changes following the knee injury likely to rule veteran midfielder Martin Bullock out until after Christmas.
Manawatu, beaten 1-0 by Hawkes Bay and Canterbury, will be no pushover with the experienced defensive duo of Adam Cowan and Colin Falvey key to their chances against a Waitakere team who have looked good at times but have, at others, been ordinary.
PREMIERSHIP
Auckland City v Otago United
Kiwitea St Tomorrow 3pm
YoungHeart Manawatu v Waitakere United
Memorial Park Tomorrow 2pm