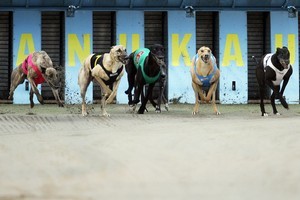 Northern interest in tonight's $100,000 Challenge Service Stations New Zealand Cup (race 9, 8.55pm) centres on the Gary Harding, Tirau trained Sergio.
Sergio has been in stunning form since arriving in New Zealand, being unbeaten in all four races, including victory in the group one Waterloo Cup at the Manukau Stadium.
The Harding-trained chaser set the NZ Cup series alight when he delivered his searing 520m Addington track debut 29.83sec heat win - the fastest of the six 520m heats contested. But there were concerns when returning for the semifinals last week where, although winning, Sergio returned a more sedate 30.17secs, the slowest of the four semis run.
However there were reasons behind that as Harding explains. "Afterwards we found a small stone lodged between his toe pads and he was also slightly sore. The work we have done with him since returning home sees him cherry ripe for his return down there. I don't believe I can get him any better for the final."
Powerful local trainers Dave and Jean Fahey are looking to chase down an amazing five successive NZ Cup training victories tonight. Their chances of being able to do so soared when they qualified four greyhounds for this competitive group one final, plus they also train both reserves.
Spearheading the Fahey charge is pre-race favourite Awesome Bender whose finishing bursts have to be seen to be believed. The other Fahey contenders include Fifth Edition, who draws nicely in the two-trap, the inform Winsome Opawa is in three, while Watmough has drawn badly in five.
"We're very pleased with all four of them - they have come through the semis with no injury issues. It's hard to pick between them, although Awesome Bender has drawn (seven) to get a nice run into the first turn, while Fifth Edition can push up along the rail," said Dave Fahey.
The one greyhound all trainers hold the utmost respect for is super canine Little Mother. She indicated she was back to her brilliant best when lodging the quickest of the semi times when running a tidy 29.93secs.
"She's pulled up very well from last week. I had a few problems with her earlier which saw her missing some lead-in work. She's over that now and I'm rapt with her and her draw (eight)," said trainer Lisa Ahern.
Should Little Mother taste victory in the cup, she will become the highest stakes earning greyhound ever to have raced in New Zealand.