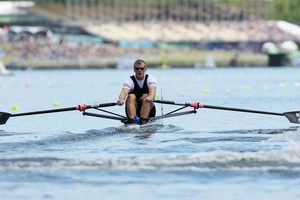 Mahe Drysdale will race in the men's single sculls final. Photo / Getty Images
nzherald.co.nz brings live updates of Saturday's finals action at the Rowing World Championships on Lake Karapiro.
4.03pm
A slightly disappointing ending to the day for New Zealand as Drysdale misses out on gold but overall a successful day for the hosts picking up two golds, a silver and a bronze.
4.01pm
SILVER FOR NEW ZEALAND
Ondrej Synek beats Drysdale by more than a second. The first time in six years Drysdale has failed to win the world championship. An impressive effort by the Kiwi though considering he has been troubled by a back problem throughout the last six months.
3.59pm
Drysdale is a boat length behind in the final stages as Synek holds on.
3.54pm
Campbell goes out to an early lead at the 500m mark followed by Ondrej Synek and Drysdale in third.
At the halfway mark Drysdale has moved into second behind Synek.
3.52pm
The final race of the day. Can Mahe win another gold? Expect a big battle between the Kiwi and the Olympic champion Olaf Tufte. Great Britain's Alan Campbell and Czech Republic speedster Ondrej Synek are also names to look out for.
And they are racing...
3.48pm
Anthem time as Bond and Murray stand on the top of the podium. Up next is Mahe Drysdale out to win his fifth straight world title.
3.45pm
BRONZE FOR NEW ZEALAND
Twigg finishes in third, the first time she has got on the podium at a world championships. Frida Svensson of Sweden just holds of the favourite Karsten.
3.40pm
The Swede still leads with 500m to go as defending champion Ekaterina Karsten moves into second. Twigg still in fourth but in a battle for third.
3.36pm
At the 500m mark Twigg sits in fourth place but she's not out of the race as Sweden leads.
3.33pm
Now it's Emma Twigg's chance to add to the medal tally.
3.27pm
GOLD FOR NEW ZEALAND
An amazing finish as Murray and Bond hold off a valiant effort by the Great British duo. It came down to the final stretch as the New Zealand pair passed their rivals with less than 100m to go.
That's two finals and two golds for New Zealand today.
3.25pm
500m to go and both crews lift the tempo and Great Britain hold a two metre lead.
It's stroke for stroke down the final few hundred metres.
3.23pm
At halfway Great Britain hold a .31 second lead on New Zealand. Going to be an exciting finish.
3.20pm
They pass the 500m mark and after a quick start by Greece; Great Britain take the lead with New Zealand holding second.
3.18pm
Bond and Murray up against Great Britain's Andrew Triggs-Hodge and Pete Reed will be the main focus of this race. And they are racing...
3.14pm
Next up is Hamish Bond and Eric Murray in men's coxless pairs final. The defending champions are huge favourites.
GOLD FOR NEW ZEALAND
Haigh and Scown cruise to victory. What a brilliant start to the finals for New Zealand with an emphatic win in the women's pairs. It was never really in doubt as they took control of the race from the 500m mark.
Finally we will hear God Defend New Zealand at Karapiro.
3.09pm
500m to go and the New Zealand duo have more than a five second lead on Great Britain. Will this be the first gold for the home nation?
3.07pm
Haigh and Scown lead at the halfway point with a half boat length advantage over Great Britain, followed by Canada and Australia.
3.05pm
At the 500m mark it's Great Britain, New Zealand and Canada while the Americans are well off the pace in last.
3.03pm
Haigh is chasing her second world title. The New Zealand duo's big opponents are the American defending champions Erin Cafaro and Susan Francia. Away they go.
2.57pm
A great finish to the men's lightweight fours final as Great Britain, Australia and China all hit the finish line at the same time. The Brits take out gold while Australia pip China by just .01 of a second.
Next up is Juliette Haigh and Rebecca Scown in the women's coxless pair final.
2.50pm
Looks like a brilliant turnout at Karapiro. A huge crowd enjoying the great weather down in the Waikato today.
2.45pm
New Zealand finished with three medals yesterday but none of them were gold. That will hopefully change in the next hour as four more New Zealand crews race off in finals.
Here is the schedule:
3.03pm - Women's coxless pair (Juliette Haigh and Rebecca Scown)
3.18pm - Men's coxless pair (Hamish Bond and Eric Murray)
3.33pm - Single scull (Emma Twigg)
3.53pm - Single scull (Mahe Drysdale)
Plenty of chances for gold in those four races for the highlight no doubt being Mahe Drysdale's bid for a fifth straight world single scull title.
The battle between Bond and Murray against their Great British rivals Andrew Triggs-Hodge and Peter Reed, a crew they have beaten 11 straight times, is also a must see race.
- Herald online