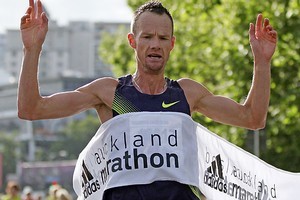 Gold Coast-based Dale Warrander clawed his way back into contention over the final five kilometres to collect his third New Zealand marathon title in Auckland today.
At each of three feeding stations well into the second half of the race Warrander was unable to find his drink bottle, allowing Timaru's Sam Wreford to gain an advantage which Warrander had to claw back.
At 32km Wreford made a bid for victory building up a lead of 15 metres. However with 4km remaining, Warrander put in a surge which carried him quickly into a commanding lead.
The 2004 Athens Olympian finished in two hours, 19 minutes 22 seconds, 34 seconds ahead of Wreford.
Warrander, 37, who won the national road title two weeks ago, now has his sights set on a fast time in the Rotterdam Marathon next April where he hopes to qualify for next year's world championships Korea.
Phil Costley of Christchurch, after a conservative start, came through well over the second half to claim third in 2hr 24min 26sec.
Shireen Crumpton of Dunedin retained her women's title in a race record time of 2hr 45min 51sec beating previous record holder Ady Ngawati of Whangarei who was second in 2hr 52min 12sec.
Danielle Trevis set a women's half marathon race record of 1hr 13min 8sec, beating Delhi Commonwealth Games double silver medallist Nikki Hamblin by just over three minutes.
Matt Smith made it two years in a row in the men's half marathon in 1h 6m 38s.
- NZPA