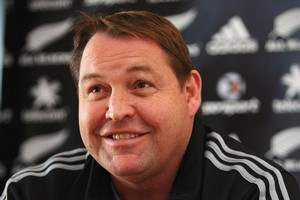 The All Blacks' assistant coach Steve Hansen has made a bold bid for Boofhead of the Year.
His suggestion that the New Zealand media co-operate with a later timing for All Black team releases by opting not to leak any earlier information they may glean on the selections is bizarre.
Hansen has been pilloried by other commentators, and rightly so.
He has already put the rugby media in an unfortunate situation, because public suspicions about past and future reporting will be raised.
The need for press freedom and the right of the public to as much genuine information as possible in our society are among the many reasons to mock Hansen's plea.
To even suggest that the New Zealand media would enter into such agreements is an insult. The media should operate in an arena of competition, not collusion.
What a closed and boring world those rugby-heads must live in for drivel like that to come from their lips. They are, as I have said often, control freaks to a level that dulls and thus harms their sport. They mistakenly believe that an entire country should be - and even is - in a Kremlin-style rugby camp.
All journalists face tricky situations at times, and may choose to withhold a story knowing there will be a better payoff down the line. This can be a grey area of no hard and fast rights or wrongs.
But a blanket agreement such as Hansen is suggesting is totally unacceptable.
The rugby media, a thin line in this country, will fight such trends to the bitter end and cop the consequences if any. The rot must stop here.
If Hansen doesn't want certain information in the media, he must try to keep it secret. And the media's job is to try and find out about it. Simple really.
A number of journalists have suggested to me that Hansen might have been joking. He's never struck me as a comical bloke.