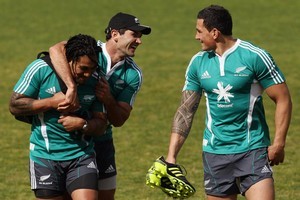 The accolades continue to mount for Sonny Bill Williams with his main All Black rival yesterday lauding the league convert's transition to the brink of test rugby.
Ma'a Nonu's position might eventually be under threat from Williams - and the All Blacks second five-eighths could understand why after glimpsing his rival's impact at provincial level for Canterbury.
"He's an athlete. He's a good player and from what I've seen he's been enormous in the ITM Cup," said Nonu after the All Blacks arrived in Hong Kong for Saturday's Bledisloe Cup clash with the Wallabies.
"He's got the one-handed offload, he knows where his support play is ... I can learn off that. It'll be good to learn some secrets off him."
While there has been public disquiet about Williams' meteoric rise to All Black status since announcing his World Cup ambitions in June, the 25-year-old seems to have been embraced with open arms since joining a pre-tour training camp in Auckland last week.
"He's slotted in pretty smoothly," Nonu said. "He's well respected all round the camp. We've seen what he can do in league."
The 52-test midfielder revealed Williams would still be babysat by teammates, despite his physical dimensions.
"It's like we've got to look after him as well," Nonu said. "He gets a lot of pressure from the public, he's well known and he's one of our own now."
Nonu, now an automatic choice as Conrad Smith's partner in the All Black midfield, believed the emergence of Williams would sharpen his game.
- NZPA