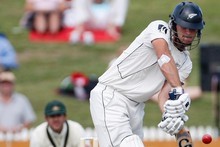 Forget one-day cricket and the B word for a moment; tomorrow the New Zealand test squad to tour India will be named.
The three-match series against the world No 1 test nation, coming hard on the heels of the Bangladesh ODI humiliation, has all the appeal of root canal treatment, but at least it's a welcome opportunity to return to playing the most traditional form of the game. It also fulfils the role of swiftly getting back on the bike after a heavy tumble.
New Zealand's last tests were at home to Australia last March, a 2-0 series loss. The World Cup is beckoning, so too are 11 more ODIs against India and Pakistan.
But for a short time the national selectors - Mark Greatbatch, captain Dan Vettori and Glenn Turner - can park limited-over requirements to one side.
A different squad for five ODIs against India will be named about November 19, after the first couple of Plunket Shield rounds.
The makeup of the 15-strong squad is likely to be seven batsmen, a wicketkeeper (Auckland's Gareth Hopkins, now Brendon McCullum has vacated the big gloves for test cricket), two spinners and five fast-medium bowlers.
For all the wringing of hands over recent one-day events, the selectors are likely to look back to last season and assess who did not let them down.
They also have players in decent form and playing four-day cricket in Zimbabwe, albeit against their B team, to consider. How much weight they should put on those performances is another factor.
Take the batsmen first.
Opener Tim McIntosh is averaging 29.69 from his 13 successive tests since his debut against the West Indies in late 2008. Yet three of his past four tests have produced half centuries.
BJ Watling, some way off the pace in the ODI game, made a reasonable fist of his first four tests; Martin Guptill, sent to Zimbabwe with the New Zealand A team to get some time in the middle, will return. His past six test innings include a big hundred and two fifties, and he might get a job in the middle, rather than near the top of the order.
The batting will also include Ross Taylor, Jesse Ryder and Brendon McCullum, with Kane Williamson sure to be taken. He's dipped his toes in the shorter game; now it's time for a taste of the five-day version.
The batsman most likely to push hardest for an opportunity is Jamie How, who played the last of his 19 tests 20 months ago, but has been in the runs, both for Central Districts in the Champions League and New Zealand A in Zimbabwe.
Jeetan Patel will be Vettori's spin chum and with Chris Martin, Tim Southee and Arnel occupying three fast-medium spots, there are two to be named.
Kyle Mills, the senior one-day seamer, remarkably hasn't played a first-class game since March last year. With that background, three tests in unforgiving India would be asking a lot. His game is also more tailored to the shorter forms.
The other veteran, Daryl Tuffey, is also tipped to sit this trip out with some minor Achilles soreness.
Vettori likes the extra pace left-armer Andy McKay can muster, and he's been a steady performer since getting his chance last season.
Canterbury's lively Hamish Bennett got good reports out of the Bangladesh shambles. He ran in hard and impressed, and remember two of the three selectors were on the spot.
Possible test squad
Dan Vettori (c), Tim McIntosh, BJ Watling, Brendon McCullum, Kane Williamson, Martin Guptill, Ross Taylor, Jesse Ryder, Gareth Hopkins, Jeetan Patel, Tim Southee, Hamish Bennett, Brent Arnel, Chris Martin, Andy McKay.
By David Leggat

Email

David