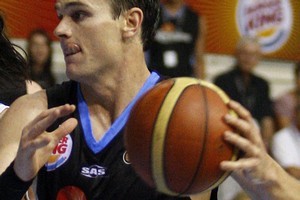 New Zealand shooting guard Kirk Penney's flirtation with the NBA has ended after he was released by the San Antonio Spurs.
Penney has been released from the Spurs' veterans camp.
The 29-year-old had very brief stints in the NBA in 2003 and 2004 for Miami Heat and the Los Angeles Clippers respectively. He was asked to trial with the Spurs on the back of top-drawer performances for New Zealand at the world champs in Turkey last month.
Penney played one pre-season game, collecting nine points in 16 minutes of court time. He attended the veterans' camp with the blessing of the New Zealander Breakers, his Australian National Basketball League club, who have not put a timeline on his return, despite their opening match of the new season looming in Sydney on Saturday.
"Kirk is obviously feeling quite down at the moment, this is his dream and it is one the club has supported to give him a shot at the NBA so he is understandably disappointed," said Breakers general manager Richard Clarke.
"He feels he has the game to compete at this level, his time at the Spurs has only confirmed that for him knowing he can score on guys in this league."
Clarke said the Breakers would allow Penney some time to check whether any NBA offers might emerge on the back of his time at the Spurs.
"We will know more in the next 48 hours or so but if nothing is on the table, Kirk will be returning to the Breakers, possibly in time for our first home game next Wednesday."
- NZPA