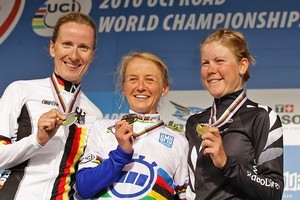 New Zealand cyclist Linda Villumsen has secured the first ever elite medal by a Kiwi at the World Road Cycling Championships near Melbourne.
The 25-year-old has won bronze in the women's time trial, finishing 16 seconds behind the winner, Britain's Emma Pooley.
Villumsen won the same medal last year representing Denmark. She says it';s great to repeat the feat for a different country and says it's the same feeling but she's still very proud.
She says she felt expectations were on her before the race and the course was challenging.
Gordon McCauley and Jack Bauer are the Kiwi hopes in the men's time trial today.
- NEWSTALK ZB