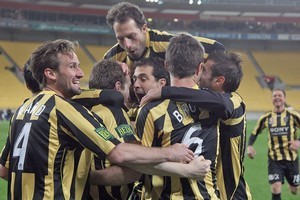 Despite threats of liquidation at the A-League club the Wellington Phoenix players have kept their eye on the ball and are in full support of their under-fire boss Terry Serepisos.
Coach Ricki Herbert says previous questioning of the financial viability of the Phoenix has never impacted on the players.
He's confident the latest saga with ACC won't have a bearing on Friday night's match away to Gold Coast United.
Herbert says the Phoenix are here to stay.
It's been revealed this morning that Serepisos still owes $1.4m to the Wellington City Council in rates and ground leases.
Former Phoenix CEO Tony Pignata's accused ACC of bullying the A-League club into paying their outstanding levies.
Pignata says the club has never had an issue with paying ACC but rather the amount demanded, as the levies far out-stripped what they were claiming back.
Pignata says Phoenix owner Terry Serepisos was left with no choice after ACC went to the papers.
He says they forced Serepisos into a corner.
Pignata says he also asked ACC to consider the fact the club pays insurance in Australia to the FFA as well.
- NEWSTALK ZB