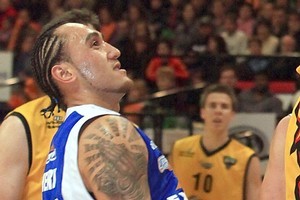 Wellington Saints swingman Leon Henry has been added to the New Zealand Breakers squad for the pre-season basketball tour to Sydney, Darwin and the Gold Coast.
Henry takes the place of Kirk Penney, who is currently trialling for an NBA contract with the San Antonio Spurs.
Henry impressed for the Breakers earlier this pre-season, taking out tournament MVP honours when part of a victorious Dean Vickerman-coached Breakers development squad at the Lu An Invitational Tournament in China.
The Breakers will use the pre-season tour to Australia to test their combinations with Penney absent. A decision on long-term replacement options will be left until they return home and the future of shooting guard Penney is clearer.
Breakers head coach Andrej Lemanis said Penney's situation was "still very much up in the air".
He said the pre-season tour was a chance to get an idea how the team responds without Penney in the mix.
"It's also a chance to bring Leon in again and see what he can contribute in a more intensive environment," Lemanis said.
"He's been on our radar for a while now, and Dean spoke highly of his performance on and off the court in China. This is a perfect opportunity to bring him into the group and work closer with him."
The Breakers leave for Sydney today and play the newly reformed Sydney Kings tonight.
From there, the team travels to Darwin for the Top End Challenge pre-season tournament which will involve three full games.
They then head to the Gold Coast on Sunday for a final game against the Blaze next Monday.
The Breakers pre-season is rounded off with a game against an All Stars selection at the North Shore Events Centre on October 10.
- NZPA