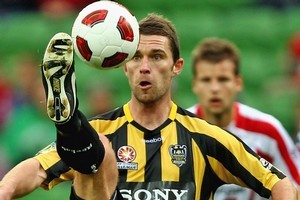 Tim Brown concedes higher expectations of the Wellington Phoenix are a factor in their inconsistent start to the A-League soccer season but believes his team are not far away from clicking right across the park.
Wellington head into their match against North Queensland Fury here tomorrow in reasonable shape on the table - they are seventh of 11 teams and one win off third spot - but are yet to recapture the consistency which was a hallmark of their run to the preliminary final last season.
Defensively they remain sound but they have struggled for the attacking flow their fans had become accustomed to, which All Whites vice-captain Brown acknowledged when asked for an assessment of their start.
"Okay, just okay, but the fact is okay is not good enough at the moment, for us or the fans," he told NZPA.
"There are some good things happening and we're close. We've just got to be consistent.
"It's one step forward and one back, but the quality of the squad is there and Fury will be a big game for us."
Wellington were touted as potential A-League winners preseason and, given the strength of their squad and the fact there are still 23 matches left, they must remain contenders, despite searching for consistency in a two-win, two-draw, three-loss start.
"We're aware we can win the league and that's probably been a bit of a weight on us in these first few rounds," Brown said.
"I don't want to look back but last year there was a completely different level of expectation. That's a good thing, though, Manchester United have it and that's where we want to be.
"When we've lost a game we've beaten ourselves up pretty hard over it, but we've got to temper things and remember it's a 30-game season."
Brown was not overly concerned and he felt they were not far away from regularly putting good performances together.
"It's not a complete overhaul, it's more a confidence thing. There are a couple of new guys (Nick Ward, Jade North and Danny Vukovic) as well and that takes time so patience is the key for us, but by no means are we happy with where we're at."
Some questions have been posed around Brown's own form in midfield but he could not understand what all the fuss was about.
"I've had a couple of off days but apart from that I've been pretty happy. I'll keep making runs into the box and keep winning my tackles. I certainly could be better but by no means do I think I think it's bad."
With Tony Lochhead (groin) out injured, Manny Muscat will move to left back, with Vince Lia likely to replace the Maltese as the holding midfielder in a 4-3-3 lineup.
Vukovic is likely to retain the goalkeeping gloves ahead of Mark Paston but there could be a change up front with top goalscorer Paul Ifill, Wellington's go-to man, in doubt with a groin injury.
Ifill would be a big loss but Brown said they had the depth to cover him in players such as Daniel and Dylan Macallister.
The Phoenix are unbeaten in 22 A-League matches in Wellington and would equal Sydney United's Australian league record with a win or draw tonight.
Sydney went 23 matches without defeat at their home ground in the old national soccer league from 1996-99.
- NZPA