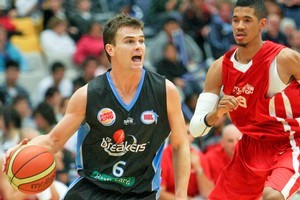 World class New Zealand shooter Kirk Penney is on the verge of a long-awaited return to the National Basketball Association (NBA).
Breakers and Tall Blacks guard Penney announced has been offered a trial with the San Antonio Spurs and was to leave for the United States today in a bid to force his way onto the roster of one of the strongest NBA franchises.
Penney, 29, told the Deaker on Sport television show that he had waited five years for a chance to prove himself in the world's elite league. He played four games for the Los Angeles Clippers at the end of 2004 before being released.
"I'm going to get another crack, another shot after five years ago with the Clippers," Penney said.
"And that was a short, short stint. So here we go."
Penney's standout performances at the recent world basketball championships in Turkey raised his stock considerably. Penney emerged as the tournament's second leading scorer, helping the Tall Blacks reach the last 16.
Penney goes with the blessing of the Breakers, who have long said they would be happy for their premier scorer to chase his NBA dream.
He will probably have to compete against six other playerss for two or three spots on the roster ahead of the NBA season starting in late October.
Meanwhile, compatriot Sean Marks is currently in a training camp with the Washington Wizards as he seeks to extend a decade-long career in the NBA.
- NZPA