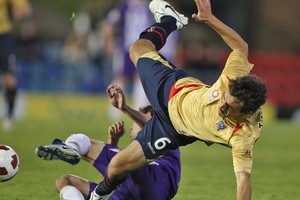 Local businessman Nathan Tinkler has stepped in to take-over the Newcastle Jets for the remainder of the A-League football season.
Football Federation Australia have handed the A-League licence over to Tinkler after determining that the club and its owner Con Constantine do not have the ability to meet the club's short or long-term obligations.
The FFA has entered into an agreement with Tinkler for this season with an option for him to acquire the licence for the long-term.
FFA chief executive Ben Buckley says it's regrettable that Constantine can no longer maintain his ownership of the club
Buckley says Constantine has been the key figure in the establishment of a proud and successful club with the high point being its premiership win in 2008.
- NEWSTALK ZB