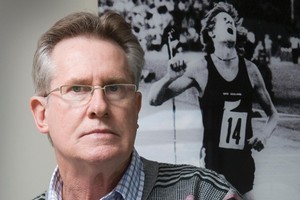 Sir John Walker has experienced the close attention of security experts. Photo / Paul Estcourt
Sir John Walker has implored the New Zealand team to attend the next month's Commonwealth Games, despite the threat of terrorism.
New Zealand and other nations are making their final decisions on whether teams should go to Delhi amid considerable public debate.
The New Zealand advance party, led by chef de mission Dave Currie, are making final health and security checks ahead of the Games opening on October 3. Athletes are scheduled to start moving into the village over the next two weeks.
Walker has railed against letting potential terror threats disrupt India's chance to host an event of moderate international magnitude.
He was not alone. The eight former Commonwealth Games athletes approached by the Herald on Sunday all said they'd compete in Delhi.
"I'd go," the international track and field legend said. "I've been to Delhi and raced [1980 Olympic 800m champion] Steve Ovett in front of 65,000 people in 40 degrees, just before the 1990 Commonwealth Games.
"The hospitality was superb. The people are passionate. It was unbelievable. I'd be disappointed if New Zealand pulled out. There are always going to be lunatics wherever you go in the world. It's one of the risks. You can't rule out any nutter wanting to make a statement.
"If the Commonwealth Games Federation feel bad about this situation they should never have given the Games to India in the first place."
It's not like Sir John is speaking from the comfort of his sofa at home, having never experienced the anxiety caused by high security.
Walker and fellow Kiwi runners Dick Quax and Rod Dixon were caught in the international spotlight at the 1976 Montreal Olympics following Prime Minister Rob Muldoon's decision to back the All Black tour of South Africa. African nations boycotted the event.
The trio were given special treatment. It was just four years after security had been upgraded at international sports events following the Palestinian terrorist invasion when Israeli athletes were killed at the Munich Olympic village.
When Walker, Quax and Dixon got off the plane in Montreal, they were whisked into a basement and put onto a US-style school bus. Armed police occupied the front and back, police vehicles surrounded the bus and a helicopter buzzed overhead. Eventually they made it to the village but it was an eye-opening welcome to Canada.
Long distance runner Kimberley Smith has pulled out of the Delhi Games, along with hockey players Ryan Archibald and Blair Hopping.
Smith says health and security came into consideration but they weren't the main reasons she opted out.
"I wanted to do a marathon as I build towards the London Olympics," she said.
"I decided to do the New York marathon [on November 7]. If you do well there, it's more prestigious than the Commonwealth Games.
"New Zealand and Australia probably take the Games more seriously than other countries, but I have to think about my career, too. Running is my job and it's important to race in big-city marathons like New York.
"It's nice to run for your country but I have run just about every other major championship for New Zealand."
Archibald and Hopping have cited similar reasons, which involved prioritising between the Commonwealth Games, Olympics, World Cups and Champions Trophy.
Phil Horne is one Commonwealth Games athlete (badminton 1982, 1986 and 1990) who has experienced terrorism first-hand. A dual international, he was with the New Zealand cricket team in Sri Lanka when the bomb went off in 1987.
"I voted to come home during the secret ballot and the team eventually made that decision," he said. "That was out of the blue with infighting among the Tamils, but it's a different age now, post-9/11."
Horne says he can understand any uneasiness.
"If I was asked to go now as a 50-year-old with a family, I wouldn't. But if I was a young, keen athlete who'd done a lot of training, I would still be looking forward to it.
"For some, it will be the highlight of their careers. I know you can't guarantee safety - it's obviously a volatile part of the world - but you've just got to rely on experts."
India has come into further focus since the Mumbai attacks of November 2008 but explosions and guerrilla-type raids have been more common over recent years.
World champion rower Mahe Drysdale says lives have never been put at risk in the two Olympic villages he has been in.
"I have always felt safe. After September 11, security stepped up at Athens and Beijing. You've got to trust the advice of your chef de mission and local authorities to a great degree.
"There was a murder in Beijing [the father-in-law of Kiwi-born US men's volleyball coach Hugh McCutcheon] and they just ramped up security around the village. They're secure environments.
"It would be hard now to have something like the 1972 Olympics when people who aren't accredited can get into the village complex. At Beijing, they even had Patriot missiles around the perimeter."
Would you stay or go?
Helen Norfolk, swimming
Olympics 2000, 2004, 2008; Commonwealth Games 1998, 2006
"I wouldn't want any of my family to go. I'd be telling them to stay home, otherwise I'd be worried about them during competition."
Phil Horne, badminton
Commonwealth Games 1982, 1986, 1990; Black Caps 1987-90
"I was in Sri Lanka when the bomb went off on a cricket tour for the first time in 1987. I voted to come home during the secret ballot and the team eventually made that decision."
Suzie Muirhead, hockey
Olympics 2000, 2004; Commonwealth Games 1998, 2002, 2006
"I'm pleased I don't have to make that choice. I've been hearing about this dengue fever which can knock you down for ages."
Anna Lawrence, hockey
Olympics 1992, 2000; Commonwealth Games 1998
"I'd probably go unless there was a team decision because of a major security risk. Like anything, it's about preparation."
Gary Anderson, cycling
Olympics 1988, 1992, 1996, 2000; Commonwealth Games 1986, 1990, 1994
"In my current stage of life, I'd question going to Delhi - but back in my 20s, I wouldn't have had many questions. I would have been busting my arse to go."
Danyon Loader, swimming
Olympics 1992, 1996; Commonwealth Games 1990, 1994, 1998
"Swimming doesn't get many chances to shine and the Commonwealth Games are a good stepping stone to the Olympics or world championships."
Sir John Walker, track and field
Olympics 1976, 1984; Commonwealth Games 1974, 1982, 1986, 1990
"I'd go. I went to Delhi and raced Steve Ovett in front of 65,000 people in 40 degrees just before the 1990 Commonwealth Games. The hospitality was superb. The people are passionate. It was unbelievable ... I'd be disappointed if New Zealand pulled out."
Dick Quax, track and field
Olympics 1972, 1976; Commonwealth Games 1970, 1974, 1978
"If I was a young athlete and hadn't been to one of those events before, I wouldn't even consider missing it."