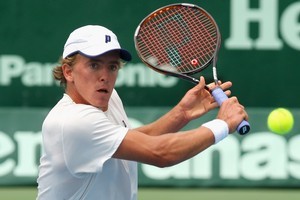 New Zealand were on the verge of a return to Asia/Oceania Group I after taking a 2-0 lead in their Davis Cup tie against Thailand in Bangkok early on Saturday morning (NZT).
Jose 'Rubin' Statham continued his impressive record in Davis Cup, beating Thailand's No 1 Kittiphong Wachiramanowong in four sets, 4-6 7-6 6-1 7-6 to secure a 2-0 lead for New Zealand on the opening day.
The match was suspended in the third set for 90 minutes due to rain and Statham never looked back when the match resumed, sealing the last two sets.
Statham has now notched up 15 singles wins and only three losses in the six years he has been playing Davis Cup for New Zealand.
Michael Venus won the opening round in straight sets earlier that day, beating Weerapat Doakmaiklee 6-3 6-2 7-6.
New Zealand's No 1 Daniel King-Turner and Michael Venus were due to team up for the doubles last night, when they met Thailand's Sanchai Ratiwatana and Sonchat Ratiwatana. The Thai twins are currently ranked 92 in the world for doubles, compared to King-Turner's doubles ranking of 441 and Venus's 529.
If they won that match, New Zealand would return to Asia/Oceania Group I for the first time since 2004 and join the likes of Japan, the Philippines, Kazakhstan, Uzbekistan, Chinese Taipei, China and Australia, although the 28-time Davis Cup champions are on the verge of a return to the world group with a 2-1 lead over Belgium in their playoff.
New Zealand have reached the final of Group II three times since 2005 (2009, 2008, 2005) only to lose at the final hurdle.
Meanwhile, Serbian dreams of a first Davis Cup final survived the shock withdrawal of US Open runner-up and world No 2 Novak Djokovic with a virus to be level with the Czech Republic 1-1 after the first day.
France eased to the verge of December's title match after taking a commanding 2-0 lead over Argentina in their semifinal in Lyon.