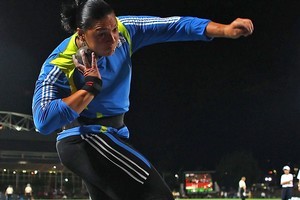 New Zealand's Valerie Adams unleashed a season's best throw at the Continental Cup athletics meet in Split, Croatia, to beat Belarussian shot put arch rival Nadzeya Ostapchuk for the first time in nine encounters this year.
Ostapchuk was on a 12-meet winning streak coming into Split to arguably be the most dominant female athlete on the athletics circuit in 2010.
But Adams, who set her Oceania record of 21.07m in her last competition of 2009, once again left her best throw of the year until September.
Adams made her intentions clear when she opened with a season's best of 20.70m.
Ostapchuk responded with 19.75m, almost a metre adrift.
The New Zealander increased the pressure with another season's best of 20.86m - a mark Ostapchuk has only once surpassed outdoors this year.
It was the second best throw ever at the IAAF World Cup and was within 12cm of the oldest women's record in World Cup records set in 1979 by Ilona Briesenick.
The Belarussian came back with 20.13m in round two and 20.18m in round three, while Adams threw 20.76m.
A demoralised Ostapchuk fouled out on her final throw settling for second place.
China's Gong Lijiao was third in 20.13m.
Adams, who has recently been working with Swiss shot put legend Werner Gunthor, ended her series with a throw of 20.56m and complete her best series of throws this year.
In the women's 1500m, New Zealand's Niki Hamblin, four minutes, 22.45 seconds, finished sixth in the final won by France's Hind Dehiba in a time of 4min 19.78sec.
- NZPA