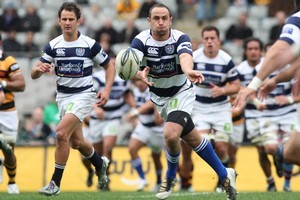 It began so promisingly for Auckland. Blindside flanker Peter Saili headed for the tryline in the second minute, but then lost the ball in the tackle.
It ended in Auckland's favour when referee Bryce Lawrence blew a merciful end to their Eden Park game with Taranaki where much of the stuff in between was unmemorable.
There was no lack of intent but the quality from both sides was modest - certainly in the first half, when they headed for the sheds with Auckland 6-3 in front.
Saili had figured again when he was sinbinned for clocking David Smith round the head, while Auckland skipper Daniel Braid retired at the break after his head took most of the brunt of an awkward tackle.
"I thought the first half from both teams was pretty average and it was a borefest to be honest and I'm sure people thought about leaving, but at least the second half-still some mistakes- but a lot more purpose," Auckland coach Mark Anscombe said.
He was not the only one in the 5825 crowd scratching their heads. Most were offering versions of "what was that?" as they shuffled out pondering their Father's Day decision to attend.
"We were not happy with that," said visiting coach Colin Cooper.
"Lot of mistakes, and they scored from them when we were on good attack. We never brought contact to the contact area and that pressure came right through our team and we made far too many handling errors and turnovers than we used to.
"Hopefully, it will give us the kick up the arse that we deserve because we have Counties next week."
Victory kept Auckland in the ITM Cup race for the playoffs and brought a congested look to the points table. Defeat cost Taranaki the chance to join Canterbury at the top and left them equal with their conquerors.
When Auckland burst out of the halftime talkfest with a lengthy individual kick-and-chase try from Atieli Pakalani, Taranaki answered with a converted try to Samuala Vunisa after a searching solo run from halfback Tyson Keats.
The game threatened to break open but never quite did.
Replacement centre Winston Stanley produced his version of Pakalani's try and, backed by Matt Berquist's solid goalkicking, Auckland had the result they coveted.
Anscombe wondered what it was about Eden Park after the uninspiring win against Northland and then yesterday's first-half dross. But he was slightly happier and content with the outcome and output from some new faces when the game was done.
Once his side sorted out their setpiece they were able to build some phase play and be far more direct than their initial flimsy work at the breakdown. Their defence remained a strength.
"The other good thing was the young guys, like Liaki Moli, had a good game; Angus Ta'avao came off the bench and really added something," said Anscombe.
"They are both from the New Zealand under-20s programme and I think that is really encouraging and positive for the union to see those guys step up to this level." He could not pinpoint reasons for the side's lack of spark. It was not for any lack of attitude or urgency.
A week ago they had a poor start against Northland and began to play as individuals and no matter the buildup to the Taranaki match, that sort of uncertainty still lingered.
"We hoped and expected and believed we would go well but I think they still had that little self-doubt there. Hopefully, if we get more of that play in the second half we will be able to release the shackles a little bit more."