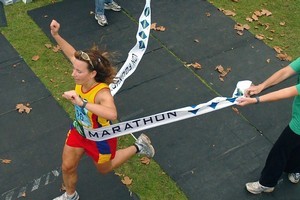 Melanie Burke winning the Rotorua Marathon in 2006. Photo / APN
Auckland's Melanie Burke comfortably won the national duathlon title in Christchurch yesterday, with Ben McHale claiming the men's crown from under-23 elite athlete Adam Milne.
Burke's time of 2h 7m 2s was more than 8m ahead of the second-placed Gina Crawford, of Canterbury. Wellington's McHale was pleased with his time of 1:56.50.