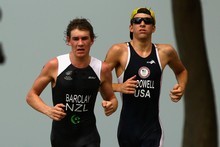 The New Zealand team have won their second medal of the Youth Olympic Games, combining with Australia to bag a silver medal in the teams triathlon race at Singapore yesterday.
The New Zealanders and Australians formed a potent Oceania team, which came from nearly a minute behind to claim the silver medal behind Europe, after leaders Americas 1 were served a penalty with the finishing line in sight.
The race involved teams of four - two male and two female - with each completing a super-sprint format of a 250m swim, 6.6km bike ride and 1.7km run.
It marked an outstanding few days for 18-year-old Southlander Aaron Barclay, who won the individual triathlon gold on Monday.
"I put just as much into that as my individual race," he said. "I tried to have a good crack at him with 500m to go on the run but he [Alois Knabl] had more in the tank. But I am extremely happy to get the silver."
Barclay and Europe's Knabl began the final bike leg 15s behind Americas 1 but Argentina's Lautaro Diaz managed to extend the advantage to 24s going on to the final run before a 15s penalty proved costly.
"About halfway on the bike we just about caught the guy out in the front but I was hurting really bad," Barclay said.
"I thought we were fighting for silver and bronze until someone round the back of the course yelled that this is the gold position here. As soon I heard that I had a real crack, but I was already on the red line. I put the lock right round and tried my best but second was it and I am very happy."
Auckland's Maddie Dillon, 16, produced a huge effort on the bike to pull back a 54s deficit to just 10s and handed over to Barclay just 19s behind the leader after the run.
"That was pretty hard, very fast and very hard," she said. "It ended up like a non-drafting race, which suits me. The deficit made it better for me because it gave me something to chase. That was awesome to get a silver medal, just fantastic."
Asia made the early pace on the first women's leg before both American teams took over in the second leg, opening a solid break with Oceania back by 55s before Dillon brought them back into the race.
- NZPA