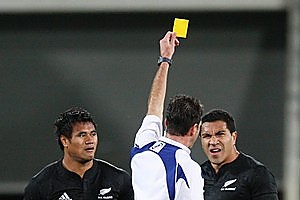 Statistics from the first five games of this year's Tri-Nations competition show a difference in the ratio of penalties per yellow card.
Suspicions are rife in South African rugby that the All Blacks get a special deal, are favoured whether subconsciously or consciously by referees.
South Africa are the most regularly penalised, conceding six penalties per yellow card. The Australians' figure is remarkably similar - just seven a card.
But by the same calculations, the New Zealand tally is incredible. Official figures show they incur 43 penalties a yellow card, more than seven times the figure of the Springboks.
Are the All Blacks favoured by referees? Here is the latest selection of Your Views: