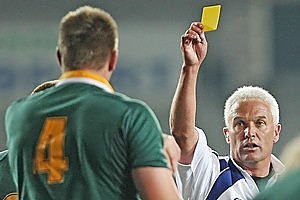 It's official.
The All Blacks are treated differently by referees from either of their Tri-Nations opponents.
The statistics from the first five games of this year's competition show a staggering difference in the ratio of penalties per yellow card. Suspicions are rife in South African rugby that the All Blacks get a special deal, are favoured whether subconsciously or consciously by referees.
Now, the figures seem to prove the point. South Africa are the most regularly penalised, conceding six penalties per yellow card. The Australians' figure is remarkably similar - just seven a card.
But by the same calculations, the New Zealand tally is incredible. Official figures show they incur 43 penalties a yellow card, more than seven times the figure of the Springboks.
This appears to reveal at best an extraordinary imbalance in the way the three countries are refereed and at worst, a complete lack of consistency by match officials in their dealings with each Southern Hemisphere nation.
It also seems to bear out the view of certain Springbok officials that there is one law for the All Blacks and another for their rivals.
Australia's former World Cup winning coach Bob Dwyer says it is difficult to argue with the facts.
He also calls the All Blacks' form this season scintillating, yet his detailed analysis offers a highly revealing insight of much value to Peter de Villiers' men as they prepare to try to halt the All Blacks' juggernaut in Johannesburg this weekend.
"Just as the All Blacks value the necessity of quick ball for their own attack, they clearly recognise the threat that opposition quick ball poses to their defence.
"In fact, I thought the All Black defence was unusually vulnerable to attack from quick ball, as evidenced by two quite simple Springbok tries in their second test in Wellington and a few similar efforts by the Wallabies. They strive, therefore, to limit such recycles from their opponents.
"There is nothing wrong with that so long as they do so within the laws of the game. It is here that I, and many others, question their tactics. Black- jerseyed tacklers finish on the ground, on the wrong side of the ball, so often, that I can't believe that it's by accident.
"This prevents their opponents from arriving quickly to support their teammate and allowing other All Black support players to attack opposition ball on the ground. Further, opposition scrum-halves are having difficulty getting in close to clear the ball and are forced to 'lift' the ball for their pass to clear All Black bodies.
"This slows down the clearing pass and gives valuable time to the defence. And it's illegal."
The Australian also highlighted what he called New Zealand's "outrageously offside" positions when they enter the breakdown on their own ball.
"All players play their part, and while McCaw, Franks and Smith have been serial offenders, Kieran Read has recently perfected his technique also. It is dramatically effective and frequently brings tries - and it's illegal."
Read more of Bob Dwyer's views at: www.bobdwyerrugby.com