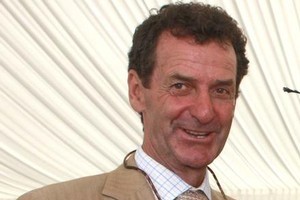 Mark Todd showed he has lost none of his old magic by winning the Hartpury international two-star three-day event in Britain.
The 1984 and 1988 Olympic individual three-day event gold medallist piloted the German-bred NZB Campino to victory. Todd was one of only four riders to complete on their dressage score, being clear and inside the time in both jumping phases.
He bought NZB Campino a year ago and has had eight competitions in Britain on the horse, finishing with two wins, two seconds and two fourth placings. Todd believes the horse has a bright future.
"He's pretty good in all three phases, with excellent dressage, good show jumping and hasn't made a single cross country mistake. This course was good for him as it was not too challenging for a relatively inexperienced horse."
Todd also competed on NZB Grass Valley, producing a quiet cross country and finishing in 23rd place of the 75 starters.
Fellow New Zealander Andrew Nicholson also had a successful weekend, winning one of the three-star sections with Mr Cruise Control, finishing second in another on Avebury and fourth with Nereo.
Joe Meyer's mount Snip suffered an injury before the competition started.
Meyer, who had hoped to take the horse to the World Equestrian Games starting in Kentucky States on September 30, said the injury was likely to spell an end to Snip's eventing career. Snip injured a hind leg, taking a small chip of bone off his hock joint.
Meyer hopes the selectors will still name him for the Games on either of his other rides, Sanskrit or Clifton Lush.
- NZPA