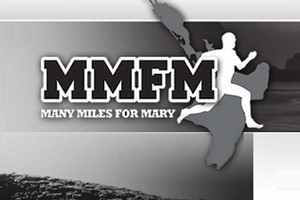 Four members of the Institute of Golf plan to run from Auckland to Wellington in six days this week for charity and their training has included only running 15km per week.
If you think they are mad with their 800km relay run, then you are not alone.
The Institute of Golf colleagues Craig Dixon, Guy Wilson, Jonny Gladwell and Jamie Milne begin their journey at 6am on Monday in honour of Milne's late grandmother Mary, who passed away in 2008 with Alzheimer's disease.
"I promised myself that day in some way or form I would always remember Mary and farewell nanny in my own special way," said Milne, the fitness coaching professional and core stabilisation instructor at the Institute of Golf.
It was with this promise that "Many Miles for Mary" was born, and attracting just as much attention is their controversial training method.
Milne has introduced his mates to gruelling sessions of anaerobic exercise (without oxygen) sessions to build strength and conditioning.
"It goes against all the theories of how to prepare for long-distance running- it is all about short, high-intensity sessions for long endurance," explained Milne inbetween a ferocious set of pull-ups at the Millennium Institute on Auckland's North Shore.
"We haven't run much but when we do, we run like a dog is trying to bite our backsides."
It has been a big adjustment for Dixon, the coach of New Zealand professional Michael Hendry who recently won the Indonesian Open.
"I've never had so many aches and pains in my life," said Dixon.
"But it'll all be worth it when we reach Wellington - all the money is going to such a worthy cause."
The aim is to raise awareness and money for their chosen charities - The Heart Foundation, the Child Cancer Foundation, the Cancer Society and Kidsline.
A turning point in their belief in the method came two weeks ago when they endured a 10-hour training session which included a 60.5km run with ultra-marathon runner Lisa Tamati. "The hardest part of the run was slowing it down," said Gladwell.
"We have been training at such a high intensity that it is really hard to taper it off."
"I was very skeptical when we first began," added Wilson.
"But now I have seen the results I am behind this method 100 per cent."
It was also a turning point in the mindset of Tamati, who earlier this year ran the length of the country (2200km run) in 33 days - the equivalent of 52 marathons.
She was unconvinced by the method until she witnessed their performance on the run.
"Jamie absolutely annihilated it without any problems whatsoever and the others did extremely well," said Tamati.
"The most they had ever run before was 20km (except Jamie) with me the weekend before so "I was stunned when they all managed at least 25km to 60km, and Jamie 70km."
Gladwell, one of the physiotherapists at the Institute of Golf, was the last of the four to commit.
"The three of them had signed up and I said 'good luck' trying to find a fourth," said Gladwell.
"Two weeks later I was in but only if we were doing it this way with the short, intense sessions - the conventional way of hitting the roads takes too long."
The run consists of four legs of around 35km for each runner every day for six days and they have no doubt they are going to make it.
"The past four weeks have proved that this method of training works and now our bodies can take a huge amount of punishment," said Wilson.
"We are ready."
Many Miles for Mary
* MMfM will run from Auckland to Wellington in six days, with each runner completing around 35km per day.
* The first day of the run will start at The Institute of Golf in Albany, setting off towards Devonport, across by ferry to Auckland City and then bound for Huntly for the first night's rest. From Huntly they then travel down country to Tokoroa, Turangi, Taihape, Foxton and finally ending in Wellington.
* As well as the four runners, there will be two support cyclists relaying their way down the country carrying the supplies and safety gear the boys will require.
* The route will take the runners through some incredibly challenging New Zealand countryside, including Razorback Ridge and the Desert Road.
* They are running to raise awareness and funds for The Cancer Society, Child Cancer Foundation, Heart Foundation and Kidsline.
You can donate to the charities at www.manymilesformary.co.nz