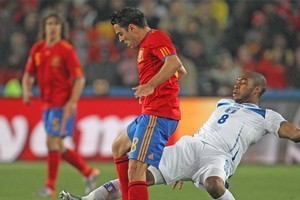 All Whites fans will be treated to two home internationals against FIFA World Cup finalists in the October match window after New Zealand Football confirmed a fixture against Honduras.
The October 9 match against the World number 46 comes three days before New Zealand take on FIFA World Cup quarterfinalists Paraguay, a match which has now been confirmed for Westpac Stadium, in Wellington.
A venue for the Honduras match has yet to be confirmed, but would not be in Wellington.
The matches will be the first for the All Whites since an unbeaten World Cup campaign that ended with a 0-0 draw with a Paraguay side knocked out in the last eight by eventual champions Spain.
The addition of a second match in the five-day FIFA match window is a something New Zealand Football Michael Glading believes will payback fans who have kept the home fires burning since the All Whites beat Bahrain to qualify for South Africa.
"We now have two World Cup sides of obvious quality coming to New Zealand with stars from the best leagues in the World," Glading said.
"It's a football opportunity that's been rare in recent years but we see it as a very special way for the team to thank the New Zealand public for all their World Cup support."